You know how we're like, so funny and relatable and you wish you could hang out with us? Well now you can (basically). That's because we're hosting our third annual Betches of Comedy Brunch Tour in cities near you. And if you live in New York, you literally will get to sit with us. If you don't live in New York, IDK what to tell you. Move?
Here's the deal. On Saturday, October 28th we're hosting comedy shows across the country in SEVEN CITIES. If you live in New York (we covered this), Los Angeles, DC/Arlington, Chicago, Boston, Nashville, and/or Philadelphia, to paraphrase that fuckboy you're hooking up with, come through. If you are still like, "I don't understand, WTF is a comedy brunch?" It's actually very simple so allow me to explain. It's a stand-up show where a bunch of comedians will perform their funniest material. And it's taking place in the afternoon, hence, brunch food and drinks will be available. Got it? Great. If not, IDK what to tell you fam.
For the not slow among us, there's one more element to the Betches of Comedy tour: Halloween. You didn't think we'd forget every betch's favorite holiday, did you? God, it's like you don't know us at all. We're encouraging everyone to show up in your Halloween costume because it's Halloweekend, duh. You *might* want to adjust your costume a bit for the daytime so you don't look like a streetwalker, but like, we're not going to tell you how to live your life. Think of it this way: Now you don't have to stand in front of your closet for 20 minutes the morning of the show, yelling "I have nothing to wear!" into your closet full of clothes and make all your friends late to the show. You are so welcome. And there will be amaze Insta photo opps so you'll want to look your most festive, just telling you now.

Don't know what to wear? Don't worry about it, because we literally think of everything. Remember our best-selling I'm A Mouse Duh Halloween costumes from last year? Well, they're back and on sale now at Shop Betches. But this year we added a new costume: Boo You Whore. These overside T-shirt dresses are super comfy and you can slut them up by wearing them solo or down by pairing them with leggings.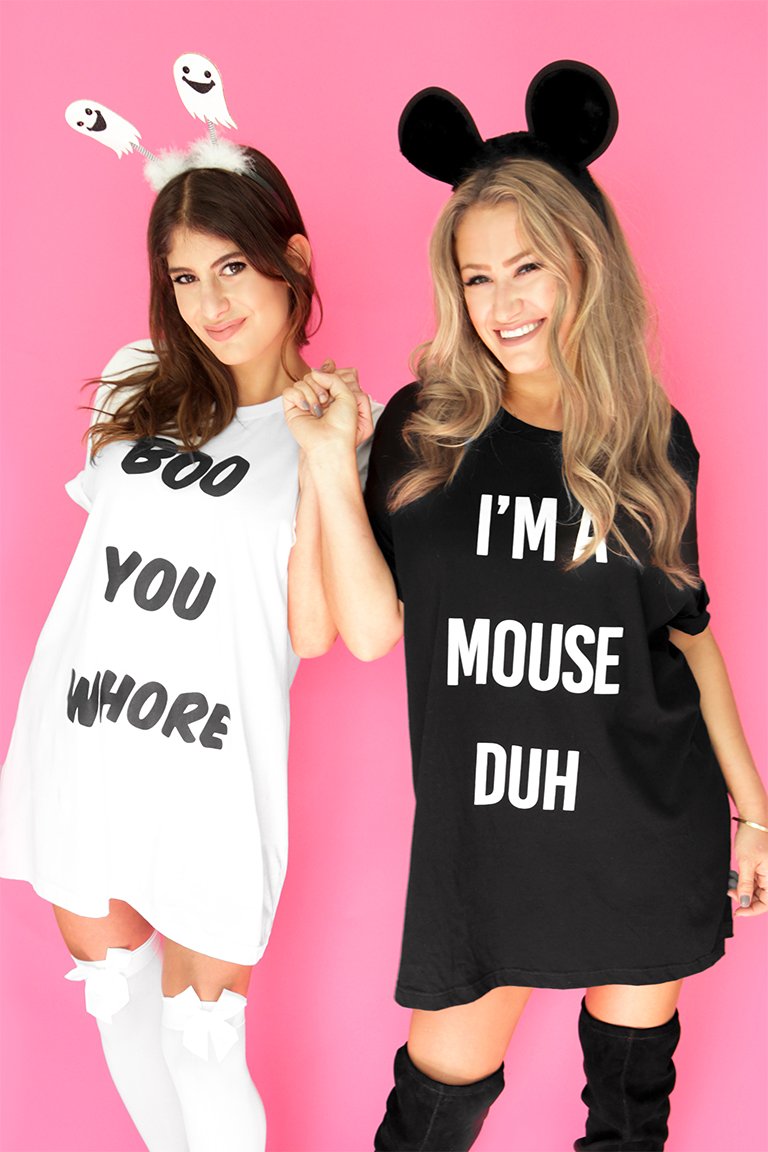 So what are you waiting for?! Tickets are on sale NOW for the Betches of Comedy tour stop in your city. Tickets and info below.
New York – Gotham Comedy Club
Philadelphia – World Cafe Live
Los Angeles – The Mint
Arlington – Arlington Draft House
Chicago – City Winery
Nashville – Zanies
Boston – Laugh Boston
See you there!