I hate when someone asks me to name my best feature or say what I love most about myself. I guess I'm referring to those annoying AF ice breaker activities we used to do in fucking school that made us feel like we were still in like, kindergarten. This also applies to Lucas Yancey guys who literally don't know how to have a normal conversation so they ask stupid questions like, "what's something you love about yourself?". In addition to loving my stone cold heart and chronic RBF, I'd say I am pretty proud of myself for surviving flat ass syndrome. But, for whatever reason why, I guess it's fucking frowned upon to agree that you're like, really pretty and have a nice ass.
I know many of you are not as lucky as me (obviously). Some of you probably do an overly intense squat routine everyday, or some of you simply settle with wearing saggy pants (which is not okay). If you're fed up with exerting energy that can be used for taking shots at the gym, and you're sick of your bodycon dresses looking like shift dresses, buy some of these fitted shorts for a J. Lo booty. You probably won't break the internet by trying to balance a glass of Champagne on your ass, but you can change your Insta bio to Miss New Booty—which is clearly the better option.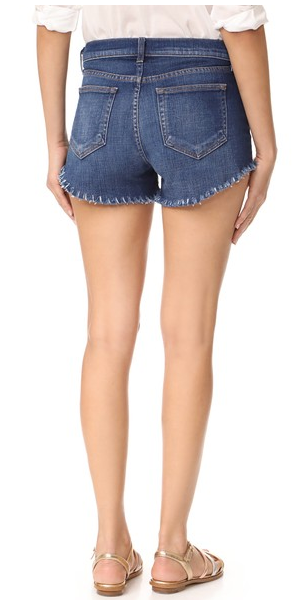 The lighter the color, the more flattering they are for emphasizing your butt size. These shorts are at a perfect high-rise to accentuate your waist and give you an hourglass shape. The uneven hem in the front and the back elongates your legs so people think your butt is held by more material, therefore looking bigger than it really is. Plus, they stretch so the more you can chug at the bar, the merrier.

Denim shorts that have a flexible hem look best when they're folded. Fold at an angle, with the longest edge going towards your inner thigh. The cuffed hem on these shorts cup your butt a little tighter and push your butt up just enough so it looks perky and firm. Bubble butt, here you come.

If you've seen girls at Coachella wearing those 70's-style bell bottoms with a trippy design, you'd agree that their ass always looks ridiculously good. Like, if Kendall Jenner's ass looks good in them, trust me. You stand a chance.

Even if they're not denim, find a soft pair of shorts with a rayon blend that have an intricate design throughout. You don't have to go to Coachella to wear these. Add them to your vacay wardrobe for a pop of color with a neutral flirty top. Guys will probably get lost in a trance staring at you as you strut your stuff. They can look, but they can't touch.

Pay attention to the washes and cuts of denim shorts to find a pair that best suits your booty. This style is created individually, each with a unique vintage wash that serves the same purpose as contouring your ass (without the glitter makeup) for a Kardashian-style belfie. Yes, that means butt selfie and no, I didn't fucking make it up. Do you think I'm an idiot? If you really want to highlight your cheeks—not the ones on your face—go for a cheeky cut that angles just enough to give a sneak peak. Booty, booty, booty, booty rockin' everywhere.

I'm kind of convinced Khloé Kardashian has some sort of chemical in her bottoms that make your ass look like you just did 1,000 squats overnight. Hmm, what might that chemical compound be called? It's fucking magical, I tell you. The length of these shorts shows off your long legs, while the material hugs your waist in just the right places to make your butt look fuller. White shorts are vital for summer to enhance your tan and add a sophisticated twist to any outfit. We'll ignore the fact that the length is super close to becoming Bermuda shorts, which I wouldn't be caught dead wearing anyway.