We're approaching the part of summer when the temperature in NYC becomes absolutely unbearable. The "concrete jungle" isn't so fun once you realize it's actually just a massive heat trap and the city decides it no longer needs to collect its 10,000 pounds of rotten garbage anymore. God forbid you have to get on the subway at any point, that's just game fucking over. Anyways, our respite from all of this is either 1) the Hamptons, obvi or 2) scenic bars where we can cool down with some extremely overpriced beverages. Here are the best places to get drinks with a view of the city this summer, because I don't care if there are beaches, I'm still not going to Jersey.
1. Le Bain (West Village)
Le Duh. This rooftop bar is located at the top of The Standard and is basically the only place in Manhattan I'm willing to tolerate that doesn't have central AC pumping throughout the entire thing 24/7. TBCH the glass rooftop can get exceedingly hot on a sunny day but is worth it for the views, the pretty people and the pitchers of cocktails, in that order. Oh and there's also a pool if you feel like getting herpes.

2. Frying Pan (Pier 66)
If you want to be as close to the water as humanly possible without drowning then Frying Pan is your place since it's literally a boat that's permanently docked. During the day it's basically a giant frat party which can be extremely fun if you don't get seasick because again, it's a boat and it moves. You'll probably be feeling pretty wobbly from the alcohol regardless, so either way it's whatevs.

3. Loopy Doopy (Battery Park)
You already know this place even if you don't think you do, since it's the bar where everyone 'grams a picture of their boozy popsicles dipped in champagne. It costs almost $30 for that drink, which is good, but like, not that good. It's also filled with lots of annoying (sorry not sorry) finance people, so this is a one-and-done kind of venue unless you enjoy your Prosecco with a side of douchebag.

4. Refinery Rooftop (Midtown West)
It's not the most "lit" bar in NYC, but then again if you went to Frying Pan every day you wouldn't have a liver. Refinery Rooftop definitely has its charm in an industrial-chic kind of way, which makes it perfect for anything from after-work drinks to your go-to spot for shit-talking people while drinking rosé. The food is pretty decent too, if that's a thing you're doing this summer.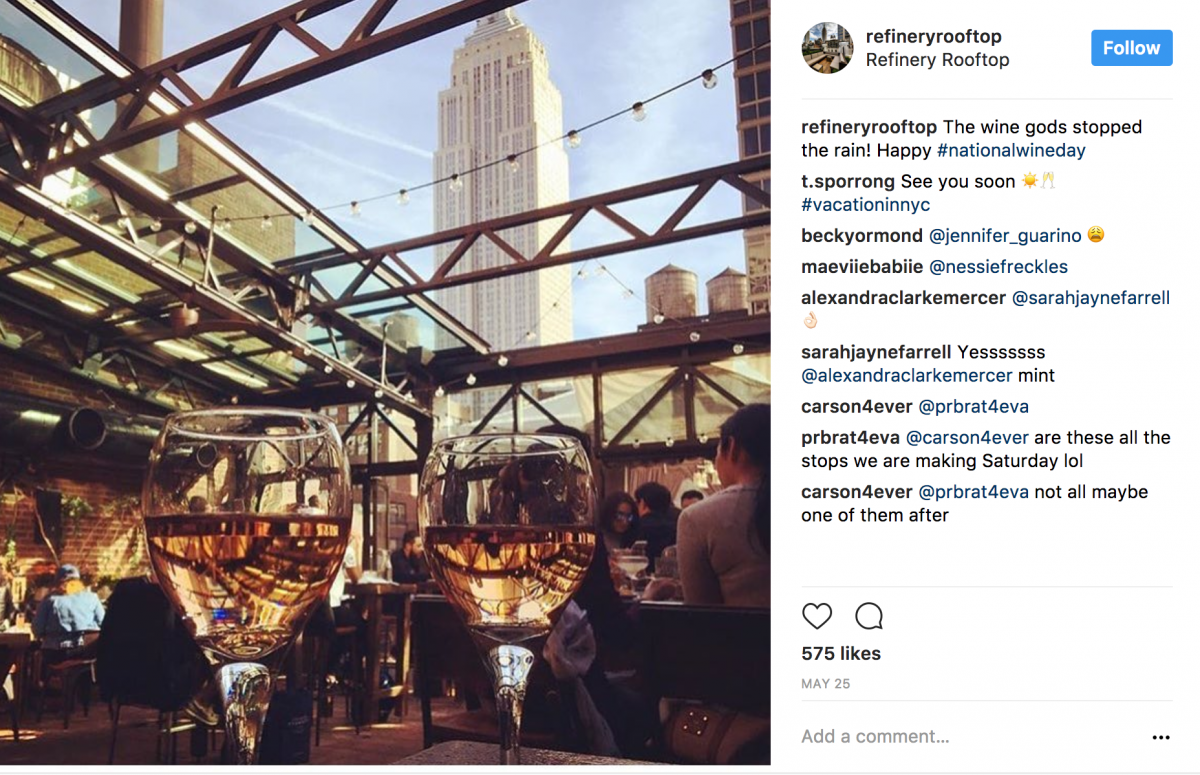 5. Gallow Green (Chelsea)
When the last plant you've seen was the succulent you killed last year, Gallow Green provides a nice urban oasis that's perfect for weekend day drinking. It's more chilled out than some of the more packed venues listed above, which means you can both cure your heat stroke and not come into physical contact with any bro who's fully sweated through his button-down.

6. Hotel Chantelle (LES)
Most times I've been here I've been extremely blacked out, but from what I can recall this rooftop is a spacious area that's great for large groups of drunk people. They do brunch during the day, which turn into club tables at night aka the perfect section to get free drinks from and then walk away immediately after.

7. Rock & Reilly's (Midtown West)
This place is a hidden gem but I guess I'll share it with you because I'm feeling somewhat generous. If you work or live near Midtown and don't feel like schlepping far away for some nice scenery and drinks, this place has both and a ton of space. There's an indoor section (which has a sports bar vibe) and outdoor section with its own bar area. There's usually never a line, so please don't completely blow up my spot k thanks bye.