As you've heard like, a million times, it's the season for all that is basic and betchy. You can deny having a soft spot for shit like fall scented candles, a new pair of Uggs, and pumpkin shit, but we all know you fucking love it. Just like they told you at that binge-drinking informational during your freshman year of college, admitting is the first step towards accepting your problem. So, now that we've established you're just as guilty of being one of us the most basic girl to ever to exist (congratulations), we can now discuss the highly Instagram-ed fall activity that will get us off the couch faster than the delivery guy bringing you your Pad Thai: apple picking. Whether it's for an awkward first date, sorority recruitment video, or simply because your annoyingly spontaneous friend coerced you into it, you *will* go by the time November rolls around. It's honestly a guarantee at this point. With going—assuming you're going to Instagram the shit out of your outing, because I'd expect nothing less from a basic betch—comes careful outfit planning. Here are the essentials you need for people to envy your (totally fake) outdoorsy, yet chic apple picking attire.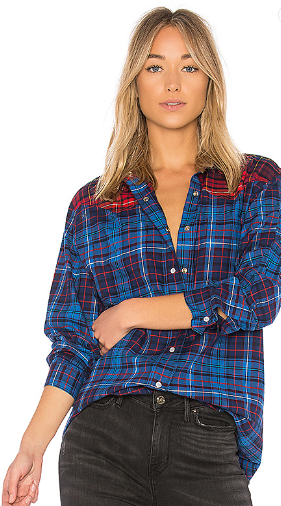 Surprise, surprise. I've included a flannel. I know. You can't deny owning (and correctly wearing) a flannel is as much of a must-have for the season as is a black leather jacket. It's just one of those things you NEED. To avoid looking like a lumberjack, the flannel has to have a feminine cut so it's slightly fitted and looks proportional on your body, versus having it look like a smock or a farmer's old shirt. The new Tommy Hilfiger collab with Gigi Hadid is 90s-inspired with a flair of carefree street style, so this flannel has way too much fashion sense to look anything other than fab.

For true New Yorkers, we all know that anywhere worth trekking to for real apple picking is in upstate New York. I mean, there's obviously no way we're going into the Long Island boondocks, NO THX. (I'm only slightly kidding.) In all seriousness, upstate can be brick tits. You think NYC winters are bad? Then you've clearly never ventured more than an hour away from the city. And no, your camp friend in Westchester doesn't fucking count. For this mini trip, wearing a lightweight vest will keep you warm from any chilly winds, have you looking trendy af, and prevent you from sticking out like a sore thumb if you've never been to an apple orchard. Bible.

If flannels aren't your thing, a low-key sexy sweater def will be. Turtleneck sweaters are still a thing for reasons I couldn't fucking tell you. Since I'm positive you don't want to look like a girl with no neck, this modern style comes with a looser version of the turtle neck, making it an effortless dressy choice. You can dress down the day-into-night look with mid-rise jeans, casual tennis sneakers, and throw a vest or scarf over it for extra autumn vibes.

Don't go apple picking in jeans. Don't go apple picking in ripped jeans, don't go apple picking in tight skinny jeans you have to suck in for, just… don't do it, promise? It's the worst and like, really uncomfortable. This fall activity requires minor stretching, possible tree climbing, and a shit ton of apple cider-induced bloating. Jeans are your worst enemy rn. Aim for leggings that make your legs look phenom and come with a high waist to make you look skinny (and kind of fit) while you work to grab those apples.

Since most of us—I won't say all because unfortunately some of you like to work out and whatever the fuck else to keep you "healthy"—aren't going to be hike-ready with high-quality sneakers and riding boots, but we can still opt to wear really cute shoes that are totally walkable and v fashionable for all of the "I'm-grabbing-this-apple-that's-way-too-high-for-me-to-reach-and-not-at-all-posed-for-the-Insta-likes" candids you'll def be taking. These feature a thick boot heel that makes walking bearable and these are absolutely diverse for various occasions.