Welcome back, friends, to another riveting week of watching Instagram's thirstiest talent gallivant around a La Quinta Inn & Suites! Serious question, guys: is this season ever going to end? We're now eight weeks into this hellscape built from Mike Fleiss's dark quarantine imagination, and Tayshia still has a small football field full of guys left. I worry that Chris Harrison's son will have graduated from college before this godforsaken season ends. *Heavy, dramatic sigh* I suppose that's why there's boxed wine.
This week, Tayshia seems a little down, which is understandable, because at the end of all this she's supposed to choose one of these losers as a life companion. Lol. Good luck, girl! ABC decides to put some pep in Tayshia's step by setting up the world's saddest brunch and a visit from former Bachelorette JoJo Fletcher. Woooow, pulling out the big guns here. I guess they can't afford to have one more Bachelorette quit on them this season.
I love that ABC is trying to pass off JoJo as a success story. Sure, she met a man through this show, but that man was also Jordan Rodgers and she's been engaged to him for longer than some of Gen-Z has been alive. So, should we really be taking her advice on love?
We learn that JoJo is not just here to sip on off-brand OJ and the Eggo waffles production stole from the hotel breakfast bar—she'll be playing Bachelorette host while Chris Harrison is moving his kid into college. This explains so much about Chris's sudden work ethic on this show. Mainly that he has one at all these days. He needs to earn that Christmas bonus if he wants to pay for college and keep his kid on the the "rowing team."
JOJO WALKING ONTO SET LIKE: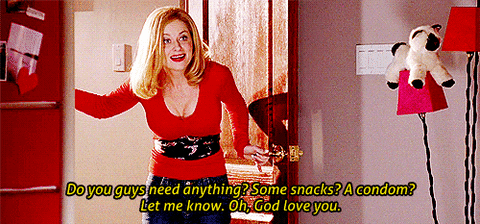 Zac's One-On-One Date
Zac gets the first one-on-one date of the week, and I wish I could be excited for this. It's not that I don't like Zac per se, but he's just so… delicate looking. It's off-putting for me. During their date, Tayshia and Zac must participate in a wedding photoshoot, which is fun because I only have to scroll through 1,000 of these on my IG feed daily. I can barely muster up some semblance of human emotion when it's my closest friends posting their third #tbt of the week of them nuzzling noses with their husbands. Must the insanity continue on my television screen??
Okay, this just feels cruel. Tayshia just said she's having PTSD flashbacks from her first marriage, and ABC does this to her! What's next? Are they going to make them sit through a faux divorce hearing for funsies?
Zac says that Tayshia is "acting weird." Oh really? What threw you off, Zac? That she looks like she'd like rather chew off her own arm than be in this room right now? Your observational skills are astounding, buddy.
Okay, who is the creative director behind these outfits? Because they should be burned at the stake. If this is some sort of comeback for my arch nemesis and Bachelorette stylist Cary Fetmen, then I should go ahead and just blind myself now.
View this post on Instagram
TAYSHIA: You were married for less than two years? I was married for less than two years!
ZAC: I love that we can share things like that!
Yes, because nothing says budding romantic future like "I know how to get the dog and the house in a divorce." Also, there are A LOT of divorcees in this group. I know ABC was looking for older, "more mature" men this season, but I didn't realize that every single guy over 30 is also divorced. The future is bleak, ladies.
Later on in the date, Zac dives into some deep sh*t. He talks about how he had a brain tumor and how that experience messed him up, which led him to substance abuse, getting arrested, and eventually breaking up his first marriage. Once again, ABC is presenting us with fully formed people and their real-life struggles, not manufactured sob stories that are mostly aired to drum up ratings. I mean this is very dark, and ABC could have easily cut this stuff out or whittled it down to just the juiciest sound bites, but instead gave us the full thing. Again, is this progress?
Also, while I'm glad Zac feels brave enough to tell his story on national television, Tayshia did ask him why he was single earlier in the season and I think he gave some variation of a shrug, when actually THIS is why he's still single. The man has seen some sh*t.
After a night full of soul baring, the two go on a romantic ferris wheel ride, a ride that I'm sure wasn't at all cobbled together by Chris Harrison before taking his leave earlier that day. Their date ends with Zac getting the date rose and (probably) Tayshia giving him an over-the-pants handie for his efforts.
The Group Date
The boys walk into the next group date and the first thing they see is an aging couple embracing in the nude. So… the group date is porn? Because that feels like the natural trajectory of this season.
We learn that the boys are going to be participating in a nude art class, which should be interesting because I'm pretty sure half these guys still openly giggle when they hear the word "penis." *cough* Blake *cough, cough*
THE GUYS RN DRAWING THEIR FAMILY TRAUMAS:

Christ.
Next up on the art class agenda: the men have to create something out of clay that represents "their time with Tayshia." Oh, and they have to do it blindfolded. Considering the only creative bone in these guys' bodies is the linguistic gymnastics they perform when they get caught by a girlfriend for liking a Fashion Nova model's bikini pic on Instagram and need to avoid her wrath, this clay business should be fun.
I see that I'm proven right. Blake just sculpts a massive dick. Bennett uses his clay creation as a thinly veiled excuse to talk about his extravagant number of houses. Speaking of which, did y'all just hear that? I think at the mention of "Hamptons" you could almost hear the sound of his DMs exploding.

Finally, the men are to create a self portrait. Ah, I see they're going to use the term "self portrait" here loosely. One guy just holds up an empty picture frame, Blake paints a turtledove, and Ivan crafts a makeshift puzzle. Meanwhile, Ben's face every time one of them bares their soul is absolutely priceless. Ben definitely just drew a stick figure and that's it.
He's watching these guys pull out these high-concept art pieces (seemingly out of their asses!!) based on their various childhood traumas, and I have a feeling that the worst thing that's ever happened to Ben was that one time he got turned away from Raya. I wonder how he'll translate "not famous-adjacent enough" into picture form?
Oh my god. What is he doing. OH MY GOD. WHAT IS HE DOING!!! Ben decides to take the self portrait thing literally by presenting himself! In the nude!!!! MY GOD, SHE SAID EXPRESS YOUR EMOTIONS, NOT TAKE YOUR CLOTHES OFF.
BEN: This is only a small part of me.
Is that his trauma? That he has average dick?!

Even though Tayshia looks like she'd rather spend an evening in a padded cell than listen to one more second of this soul baring, there's still more to this date! We learn that Ben's getting naked was about more than just swinging his dick around. It's a symbolic gesture of body positivity since he's struggled with bulimia. I'm glad he's sharing his story since male eating disorders are hardly ever publicized, I'm just not used to The Bachelorette being so, like, real.
Eazy's One-On-One Date
Eazy gets the second one-on-one date of the week, and I'm interested to see more of him. All I know is that he's beautiful and an alleged predator and that ABC has declined to comment about it. For the date, the two of them are going ghost hunting for everything but apparently the ghosts in Eazy's past. So, let me get this straight. In addition to being a Fear Factor set, an underground cage fighting ring, and the birth place of the esteemed Grown-Ass Man awards, La Quinta is also the grounds for supernatural energy? Wow, the branding here is all over the place.
We learn that somewhere on hotel property, a lunatic billionaire died of mysterious circumstances. I'm pretty sure the only historic character this hotel actually has is those two aging nudists on their vacation, but sure, tell me more about this supposed ghost story.
They go explore all of the "haunted" attractions, and I simply cannot take this date seriously. I think at one point Tayshia turns off a light and an ABC intern throws a doll on a chair. Oooh, scary. Tayshia, of course, lets out a horrific scream and it's like, please. I've seen scarier sh*t in my DMs. What's next? Juan Pablo popping out in a bedsheet as a ghost of Bachelors past?
The ghost storyline proves to be the least shocking part of this entire date, because Tayshia actually sends Eazy home after dinner. To be fair, Eazy did come out of left f*cking field with that love talk. He says that he's falling for Tayshia and that sometimes you can just feel these things in your bones. At the use of the "L" word, Tayshia sends Eazy home on the spot. So, somehow Ed is still on this show but Eazy is gone? Make it make sense.
https://twitter.com/nicoletteholly/status/1333963584813019137[/embed]
The Two-On-One Date
Noah and Bennett are sent on the dreaded two-on-one date before tonight's rose ceremony. It's interesting that these two are the guys going head-to-head. On the one hand we have Bennett, who has multiple estates in tropical locales. On the other hand, we have Noah, a man who will at one point tonight try and give someone a wet willy. I can see how this choice could be debilitating for Tayshia.
While waiting for Tayshia, you know, the whole reason these two are even allowed to breathe on our television screens, they exchange barbs that are surely making Harvard reevaluate its admission process. Bennett, being the egotistical dick that he is, decides to gift Noah with a little going away present:
View this post on Instagram
God, I can't wait for Taysha to find out what's in that box. Until next week, kids!
Don't miss out on anything happening in Bachelor Nation. Subscribe to our weekly newsletter here.
Images: ABC/Craig Sjodin; @bachelorettewindmill /Instagram (1); @nicoletteholly /Twitter (1); ABC (3); Giphy (2); @bacheloretteabc /Instagram (1); @brettsvergara /Twitter (1)