Welcome back to the best Bachelorette recap you'll ever read! We are now on week four of Michelle's journey toward love and the closest thing I've seen to a genuine romantic connection is the one I'm having with Michelle's styling. (My god that woman is a vision). As we move into the middle of the season, connections should be getting deeper, rose ceremony eliminations more dramatic, and let's not forget the rampant unrestrained emotions that can only be reproduced on a Bachelor(ette) set and in hostage situations. At least we should be seeing all those things on our television screens. Instead, Michelle's season has felt… anticlimactic? Dare I even say, boring?
The thing about Michelle that I'm starting to realize is that her highest energy level functions like the starting effects of an Ambien. She's just too damn calm and collected. And, look, I get it. Her day job is the equivalent of managing a crime scene every day. I mean, do you know what goes on in 5th grade classrooms?? She's out here navigating fractions and teaching the Our Changing Bodies book to a bunch of kids who still pick their noses and hide the evidence on the bottom of their desks. Fractions and puberty, people! The amount of serotonin her brain must be firing off at all times has to be astounding. And yet, it might be these calm, cool, collected vibes that are unwittingly giving the men permission to count her as a Cool Girl, and thus, treat her feelings with about as much care and concern as the half-eaten bag of chips they discarded in the backseats of their cars.
The other thing I'm realizing is that her eliminating the villains so early on might be to her detriment. If there's one thing men love, it's an evil to defeat and a girl to save. Sure, it's an outdated patriarchal fantasy, but so is the blueprint of this show. As I said, The Bachelor(ette) functions like a hostage situation—without house drama and emotional warfare, how else are they supposed to romantically bond with a stranger in six weeks? They need a bad guy so that they can rally around their girl and prove that their feelings for said girl are more intense, more genuine, than than the bad guy's feeling for her. What? Did she think they'd just be mature enough to express their emotions without some sort of instigating catalyst? Lol, that's cute.
Saturdays Sleepovers Are For The Boys
And with that, I bring our attention to the group date where this cool girl energy and lack of a villain circumstance reach a crescendo. I'm not sure how this group date was ever supposed to rouse amorous feelings, as it was definitely inspired by the Mary-Kate and Ashley Olsen sleepover party circa 1995. That's right: the theme of the group date is slumber party, complete with jammies and teddy bears. What could go wrong?
I'm sure when Michelle was pitched this idea for a group date she envisioned sexy pillow fights, maybe a truth or dare game that ended in makeouts or a coy removal of clothing. Instead, the guys are going with more of a "pull my finger" kind of a vibe. Case in point, this entire scene:
MICHELLE: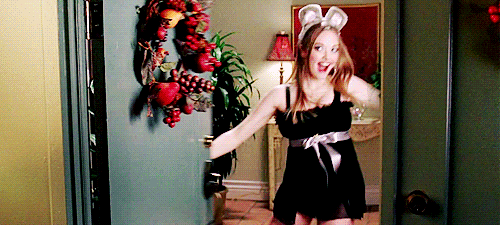 THE MEN: Does anyone want to play duck, duck, goose?
DOES ANYONE WANT TO PLAY DUCK, DUCK, GOOSE. You have a beautiful, smart, scantily-clad human woman in your presence and you want to play duck, duck, goose? The men really make it hard to root for them. Not just on this show, but as a human race generally.
And where is Michelle in all of this? Watching the men play slap and tickle from the corner and probably wishing she had never had that fifth glass of wine at happy hour before applying for this show in the first place.
Just when Michelle is ready to confront the men, ABC brings out the Bella Twins to host that pillow fight. Not now, Bella Twins! Can't you read a room? The Bella Twins tell us that the men will be divided into teams and each team member will go head to head with an opposing team member in a pillow fight. The winning team gets alone time with Michelle. Wow, ABC literally always chooses violence, don't they? Oh, did you think this was a slumber party? Sorry, you're actually here to beat the shit out of someone with a giant Mr. Wiggles.
It should be noted that this combination of protective instincts and expression of strong feelings through outward bodily harm, is exactly the catalyst needed for the men to start giving a shit about their Bachelorette. I knew they'd figure it out eventually. But Michelle, it seems, is still not impressed. Instead of coming off like they need to win her affections, their actions seem more aligned with just winning in general. Shocking.
https://twitter.com/Lil_Vil/status/1458247726534123525[/embed]
Look, are the men acting like immature idiots? Absolutely. But she did invite them to a sleepover and get them all hopped up on soda and junk food. Of course they regressed to 8th grade. She's lucky she didn't accidentally fall asleep in their presence. She might have woken up with her hand in a glass of water and pee all over that Skims set. Count your blessings where you can, Michelle!
More Clown Energy: Martin's One-On-One
Michelle's one-on-one with Martin goes just about as smoothly as the group date. The theme of the date is some sort of off-brand Fast & Furious tribute, because apparently ABC's idea of mature, stable relationships involves hot cars and traffic violations. At first Michelle seems equally into the date. She tells us she wants a partner that will help her "live life on the edge" and she says this as if she doesn't think a dangerous double life entails purposefully skipping lesson planning to fall asleep drinking Chardonnay in front of the TV. I can read you like a book, honey.
I have to admit, I don't understand the sexual appeal of Martin. This feeling is only strengthened when he shows up to the date looking less like a romantic prospect and more like an extra from Buckwild.

Boy, does he make it hard to root for him.
I wish I could say the first strike on this date is to Martin's distressed flannel, but sadly that comes later when the two settle in for a little post-racing hot tub soak. I'm using the term "hot tub" here very loosely because the thing they fold their bodies into is less of a hot tub and more of a large garbage can filled with water. Like, did they displace Oscar the Grouch for this date? How is this romantic??
Then Martin starts running his mouth about what a "hell of a man" Jamie was. Strike two. Apparently, Jamie and Martin were good friends in the house. At least that appears to be his justification for using his limited alone time with Michelle to question her decision to send Jamie home last week.
https://twitter.com/feelin_thorny/status/1458243208669011972[/embed]
What's worse is that Michelle has no place to go during this attack. He's got her pinned to the other side of that garbage pail, swigging her champagne for some small outlet of release. Read the room, Martin! No one wants to hear about your bromance with a psychopath.
Later, when Michelle confronts Martin about their tiff, he blames his aggression and shitty communication skills on his parents. Woooooow. How original. Look, if he's going to blame his parents for his communication skills, he should throw some other things into that pile as well. His hair. His accessories. His fashion sense in general…
ME TO MARTIN AT ALL TIMES: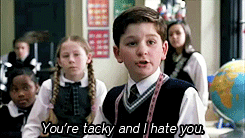 Michelle accepts this explanation for his behavior, but it's not the head-over-heels devotion I'm sure her producer sold her on when she signed The Bachelorette contract. If anything, listening to a man complain about how his parents just really effed him up and honestly the trauma of surviving a traditional nuclear family is really why he can't ever be fully in control of his emotions (you get that don't you?), is cementing for her that the caliber of "eligible bachelors" this season really wasn't any different than the state of her DMs in Minnesota.
Precious Angels Of The Week: Olu & Rick
Though the men spent the majority of the episode proving my working theory that men aren't shit (trademark pending), two of the guys managed to actually impress me. Olu was perhaps the only bright spot on the group date. When, during the cocktail portion of the evening, Michelle broke down in tears about these jackasses ignoring her, her speech took Olu out. I mean, his performance on that group date was giving human tear duct Ashely I a run for her money.
Olu connected Michelle's feelings to his four sisters back home and, okay, he did say sister far too much during that cocktail hour. He sibling-zoned the shit out of her and it's grossing me out.
MICHELLE: It means a lot to me that you would compare me to your sisters like that
ME:

Look, sibling love isn't my thing, but Michelle seems into it and Olu does seem heartfelt in his apology. He ends up getting the group date rose and a coveted spot in my Precious Angels of the Week.
Rick also proved to not be complete trash this week (a tough feat, let me tell you). He scored the second one-on-one date, which immediately followed the abysmal group date. The two of them go hiking and share family trauma because what is a hike without blood, sweat, and tears?
Michelle said she was extra excited for the date because Rick has always "seen" her. I think it helped that the two of them were literally the last people in that forest, so it was either pay attention to Michelle or make conversation with the redwoods. I like to stack the odds this way as well.
And the odds do pay off for her. By the end of their date, she finally feels like she's being seen and makes a strong connection with the back of Rick's throat. Ah, to be young and in love again.
The Final Drama
As I mentioned earlier, Michelle has done a pretty good job of getting rid of all the villains before they have a chance to sow too much discord in the house. As I've also mentioned, this could be to her detriment. But never fear! Chris S is ready and willing to take up that role. God bless him.
Now, every Bachelorette villain has a brand: Luke P was the Jesus freak, Chad was the human embodiment of an FDA warning label for steroid abuse, Jamie was the master manipulator, and it looks like Chris S has decided to lean hard into the brand of the little incel who could.
His strategy is much like Jamie's in that he wants to create chaos amongst the men, but his reason for doing so is because he's butt-hurt that Michelle isn't giving him enough attention. His off-screen interviews reek of entitlement, as if he deserves her full attention for merely existing in her presence. He hears about the drama that went down at the group date's private after party and makes the bold proclamation that he needs to get out his "white horse" and save Michelle. Dear god, I hope he's not talking about his penis. Giddy up.
I will say that Chris S' ability to compartmentalize is absolutely astounding. He convinces himself that even though he was a participant during the part of the group date where her feelings were hurt, he wasn't actually a part of the hurting of her feelings.
CHRIS S DURING THE ROSE CEREMONY: I don't think these guys actually understand the way she feels and how upset she was.
CHRIS S DURING THE GROUP DATE:

In an effort to make everyone understand how Michelle feels, he decides to give a toast at Michelle's rose ceremony to speak about Michelle's feelings while standing directly in front of Michelle. You cannot make this shit up.
He's like, "these guys think they have this in the bag" and then proceeds to single Nayte out specifically. STAND DOWN, LITTLE MAN. I know he's not talking about my boyfriend Nayte like that and thinking I won't throw metaphorical fists in this recap over it.
View this post on Instagram
Here's how I know Nayte is a good guy: when he confronts Chris about spreading lies the worst thing he calls Chris is a "dweeb." A DWEEB! These are iCarly level insults and it's so cute.
In the end, Michelle doesn't take much stock in the "they have this in the bag" accusation because she gives Nayte a rose. But she also doesn't consider how malicious Chris S' intentions are because she gives him a rose as well. Or maybe she doesn't care about his intentions. Maybe she realized these men need a little bad guy to rally against if she's ever going to elicit any feeling out of these idiots. Whatever the case, we'll have to wait until next week to see how part two of the Nayte/Chris S showdown plays out. Until then!
Images: Craig Sjodin / ABC; Giphy (4); ABC (1); @bitchelorette_ /Instagram (1); @lil_vil /Twitter (1); @feelin_thorny /Twitter (1)