ABC must have known that this season of The Bachelor was going to be boring af, because they had another reject-studded franchise spinoff ready to air: The Bachelor Winter Games. With a premiere date of February 13th, just in time for us to give up on Arie having a personality, this confusing spin-off has a 99.9% likelihood of being more entertaining than The Bachelor season itself. ABC announced most of the cast this week, and we are v excited to watch Ashley I. cry off her lash extensions, Dean attempt to overcome his addiction to fuckboy-ery, and Luke promote his country music career.
But we have a few burning questions: 1. Where the fuck is Peter? Mike Fleiss promised us he would be there, and I really don't think I can survive another should-have-been-Peter letdown. Ben Higgins IS NOT an acceptable replacement. 2. What the fuck are they going to do with all of these people who don't speak English international contestants? And 3. Do any of them know how to play sports? While we might have to wait for answers until the four-episode season airs in February, we can definitely start judging the contestants now.

Americans
Ben Higgins, 'The Bachelor' Season 20
It's legit sad when an ex-lead shows up on a franchise spin-off. Actually, has this ever happened, or is this a new low? I bet he hooks up with one of the foreign blondes and wears his new coffee company T-shirt everyday.
Winter sport he will suck at: I cannot imagine this boy playing sports. But maybe he will be a mediocre ice dancer.

Dean Unglert, 'The Bachelorette' Season 13
It's been a whole two seconds since this fuckboy has been on our TV screens—looks like Dean is replacing Nick Viall as the new professional Bachelor franchise contestant. At least he takes less selfies.
Winter sport he will suck at: Treating women with respect.

Eric Bigger, 'The Bachelorette' Season 13
Eric and his beard are back; it must be miracle season. I'm a huge Eric fan, and I am genuinely excited to watch him run around in the snow with his shirt off and compete in winter themed games while hooking up with some randos. I only wish one of those randos were me. *Sighs*
Winter sport he will suck at: Figure Skating.

Jamey Kocan, 33, 'The Bachelorette' Season 13
Literally who is this?? Is this the guy that couldn't understand why Rachel would send him home when he had such a symmetrical face? Could they really not find a boring white dude that made it past week two of a season?
Winter sport he will suck at: Curling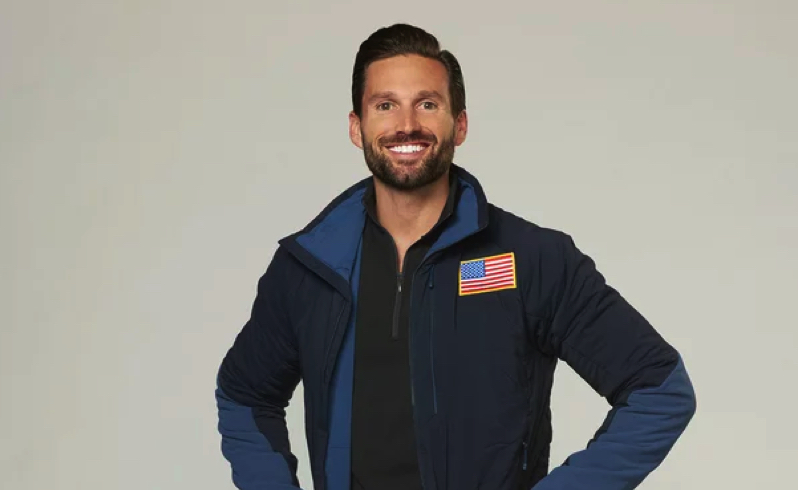 Josiah Graham, 'The Bachelorette' Season 13
Josiah was solidly entertaining and extremely (falsely) self-confident on Rachel's season. He forgot to actually care about the lead, though, so Winter Games seems like a better fit for him: A competition that's about being the best and not about showing a woman you love her.
Winter sport he will suck at: Josiah is the best at everything, just ask him.

Luke Pell, 'The Bachelorette' Season 12
Okay, I'm starting to think Winter Games may be the auditions for the next Bachelor? WTF is Luke doing here—doesn't he have a successful D-list country music career to attend to? He looks extremely uncomfortable in winter clothing.
Winter sport he will suck at: Anything he can't do while wearing cowboy boots and jeans.

Michael Garofola, 'The Bachelorette' Season 9
I am totally here for Michael. He's a successful lawyer and may be the only male Bachelor in Paradise contestant to not get a rose and still look like a gentleman. Winter will be your season, Michael, I can already tell. But if not, feel free to slide into my DMs.
Winter sport he will suck at: Cross-country skiing.

Ashley Iaconetti, 'The Bachelor' Season 19
Is she going to cry over Dean or Ben Higgins? She's already bff with both of them, so I can't wait to see which producer-induced love triangle she gets herself into this time.
Winter sport she will suck at: Yea, sorry girl—but probably all of them.

Clare Crawley, 'The Bachelor' Season 18
Clare announced her retirement from the franchise after her extremely embarrassing second appearance on Bachelor in Paradise. But just like Mike Fleiss' promise of Peter, that means nothing.
Winter sport she will suck at: Anything that requires sanity.

Lesley Murphy, 'The Bachelor' Season 17
I didn't watch Sean's season so I know nothing about this girl, but five minutes of internet research revealed that she recently had a preventative double mastectomy and is a total badass. Lelsey, meet Michael; Michael, meet Lesley…
Winter sport she will suck at: She's a queen and will win them all.

The United Nations
The rest of the cast is made up of contestants from the international versions of The Bachelor: six men from Canada, New Zealand, Australia, and Switzerland/Germany and eight women from Sweden, Australia, New Zealand, Finland, The UK, China, and Japan. I can't even pretend to know enough about them to make uninformed judgments, but I will say this: I am glad the franchise is finally letting Asians on the show, and also this Natassia from Sweden looks like trouble.

Whatever happens on this spin-off, there are sure to be juicy hookups, awkward subtitled conversations, and a lot of culturally insensitive comments. I can't wait.