Well, well, well what a week it has been for Bachelor Nation. It was already hard enough that we had to say goodbye to Dildo Girl, our favorite camp counselor and sex positive queen, BUT now we gotta deal with Chris Harrison and the rest of the Bachelor franchise acting like racist trash? I'm not going to rehash the entire problematic exchange (you can read all about it here), but I will say it's almost like the franchise only chooses to support diversity when it's convenient and/or popular for them to do so, and not because they genuinely have a desire to share Black and Brown stories. But I'm sure ABC and Chris Harrison are taking all of our feedback and are using this time as an opportunity to grow. And by "time" I mean the one to two episodes Chris Harrison will be sidelined from hosting to focus on "accountability." To be fair, I'm pretty sure that's how long cancel culture works for middle-aged white dudes in the country anyway.
Moving on to this week's episode, and to drama that doesn't make me want to set fire to everything on this earth: Heather is in the houseeeee! Last week, Heather Martin of Colton's season (and Hannah Brown's TikTok videos) decided she was so bored in quarantine that she would literally do anything for human interaction, including willingly walking into this hostage situation in progress. Of course, Matt is the hostage in this scenario. The women have completely descended into a mob rule/Lost Boys type situation here. I would not be surprised if that bloodcurdling scream Pieper let out after Heather interrupted her alone time with Matt was some sort of code for her people on the outside to call in a ransom on one of Matt's turtlenecks loved ones.
We definitely think the producers had to feed Matt Heather's name, right? Heather says that Hannah shared with her some "stories about his heart" and it's like, I don't want to hear one more story about Matt praying before he eats a Costco free sample. Give me the dirt. Why don't these people ever share stories about their friends having one too many at half-priced wine night and throwing up in their purse in the Uber ride home. Paint a realistic picture of their future partner, I beg of you!
I'm still just so shocked that Heather had the audacity to roll up here in her minivan halfway through the process. The logic is just not there. If Matt really wanted Hannah B to pick out a girl for him, he would not have gone on The Bachelor, he would have responded to the group chat.
View this post on Instagram
I love that Heather thinks there's any chance in hell those girls are going to let her sit on that couch with them. Before she can even get out her name, the girls immediately start coming for her throat and it is BRUTAL. They're freaking vultures. *turns the volume all the way tf up*
PIEPER: Sounds like you're Bachelor hopping.
Okay, Pieper. Like you aren't going to swap fluids in Mexico with half of Bachelor Nation once this is all over. Please. Also, PIEper is clearly taking out all her lifelong anger over having to spell her name like that into this 20-second interaction with Heather. That's the only cause for this much hostility.
Matt also cannot believe that Heather had the audacity to roll up here in her minivan halfway through the process. He must have said the word "minivan" at least three times in the last 30 seconds. Yes, it was a real sacrifice, Matt. Her Instagram brand will definitely suffer.
Heather keeps saying how serious she is about this process, but Matt doesn't seem to be buying it. I'm sorry, but did no one show him her quarantine footage? She Rapunzel-ed her hair out a window for him! She practiced making out on her hand for him! How is that not commitment?
Matt must sense that if he entertains this Heather thing for any longer, he might find that Pieper's people have destroyed the necklines to all of his favorite turtlenecks. He's got to put an end to this ASAP before anyone else gets hurt. He tells Heather goodbye and she seems way too upset about this. It's okay, sweetie. I'm sure he'll catch you on Raya in a few months when he's single again!
Going into the rose ceremony, Matt makes a speech commending the ladies for how they handled Heather's presence this evening. I'm sorry, but what exactly is there for him to commend? They made her cry! Middle school girls locker rooms are less toxic than what just took place on my screen.
Speaking of toxic, at the rose ceremony, we say goodbye to Chelsea and Serena C.
Matt just lost about 10 pounds of negative energy now that Serena and her eyelash extensions are gone. I could not be more thrilled. Justice for Dildo Girl has been served!!
Serena's One-On-One Date
Even though Abigail and Jessenia are the only girls who haven't received a one-on-one with Matt, he invites Serena P on the first one-on-one date of the week. Yikes. He says that he chose Serena because it's the perfect date for them as a couple. First of all, tantric yoga? Seriously? This might have been the perfect date for Dildo Girl, but not for the girl who just visibly cringed at the sight of you in cropped leggings. Second of all, who would ask for this?? Just because you say things like you believe in "chakras" doesn't mean I'm buying that a girl doing splits on your face has anything to do with your emotional growth as a couple. I'm already wishing I could pour bleach on my eyeballs.
Ooof, Serena is not into this. She says this was way outside of her comfort zone. I love that this girl says she's not into public affection but signed up for a show where the camera man is contractually obligated to zoom in on a man's fingers inches from her labia. Matthew, HANDS!!

Matt is visibly upset that Serena isn't enjoying his date, and I have a feeling Serena could be going home for this. All because she didn't like having to avoid eye contact with his chubby for the last 90 minutes. Shame.
Well, it appears true love can conquer all, even a grown-ass man wearing Lululemon. The evening portion of the date goes way better for the two of them. Matt realizes that just because a woman doesn't want to poorly reenact the kama sutra in front of God and Ashli the tantric yoga instructor, that doesn't mean they aren't compatible as a couple. Serena gets the date rose, securing the first spot in the hometowns lineup.
The Group Date
The group date this week is strange because there appears to be no actual activity tied to it. Instead we're dropped straight into footage from the cocktail hour, making it less of an actual date and more of just Matt making out with girls in different corners of a hotel lobby. So, basically, what he was doing before he became the Bachelor. It's sweet that he's going back to his roots this week.
The most shocking revelations during the date come from Bri and Kit. Bri confesses that she had to quit her job in order to continue on Matt's season. I may or may not have let out a strangled gasp at that proclamation. We aren't told what exactly her job entails, but the internet is speculating that it's a big f*cking deal. I can't believe she resigned from her job during a global pandemic, when unemployment is at a historic high, for a man wearing a turtleneck and a ladies leather jacket. Bri, honey, whyyyyyyyyyy?
Kit is also full of confessions this week. She lays down some ground rules for Matt and one of those is that if he wants to get engaged then she needs to… finish school?? Okay, she is too young for this show. She just said that having kids by 25 is a long-term investment for her!! Those are words that came out of her mouth!! MY GOD, the Disney Channel has older talent on their roster! I feel like I'm taking crazy pills!
View this post on Instagram
Kit ends up self-eliminating after the group date. She says it's because she still has doubts about their relationship, but I have a feeling her famous mother would disinherit her if she allowed an ABC production crew into their home. Not for COVID safety purposes, but just like, primetime television? In this house? Ew.
Next up on the chopping block: Abigail. If I'm being honest, Abigail has been struggling for weeks now. She hasn't had very much alone time with Matt and even admits that they've only ever had "a few good conversations." Yikes. That's practically Bachelor code for "friend-zoned."
She asks Matt straight up how he's feeling about her and he all but jumps at the excuse to send her home. Trash. TRASHHHHH.
ABIGAIL: I'm the kind of girl who makes men realize they want someone else.
ME:

ARE YOU F*CKING KIDDING ME WITH THIS, MATTHEW? I WOULD GO TO WAR FOR THIS GIRL. Abigail is truly too pure for this Earth and she's got me in my feels with this exit interview. He keeps sidelining these down-to-earth, authentic women, in favor of girls whose resumes include things like "has swipe up capabilities on IG" and it's making me sick. That said, Abigail, I know this hurts, but you just dodged a bullet, girlfriend. His jacket literally squeaked when he hugged you goodbye.
Rachael ends up getting the group date rose, but the real winner is the camera work being done here. The losers look completely crestfallen, like the producers just asked them to choose between deleting their Instagram accounts and staying on the show for one more week. They keep panning between the losers, sitting dejectedly on the sofas, and Rachael and Matt trying to swallow each other's faces in the next room. It's just so…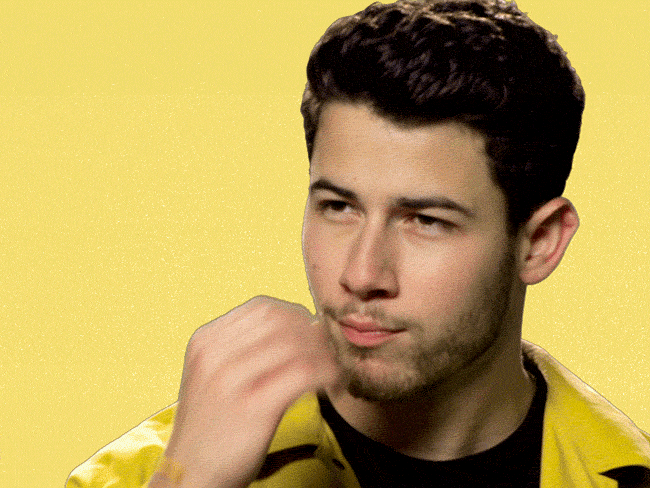 Jessenia's One-On-One Date
It's crazy that Jessenia is an actual contender for hometown dates because all I know about her is that MJ once gave her two for flinching. Like, I just learned the proper spelling of her name this week. This is a problem.
Okay, I would hate dating Matt. He says "I'm an adrenaline junkie" with far too much chaotic energy for my liking. I'm not even on this date and I'm already about to update my life insurance policy just in case. Jessenia, on the other hand, is thrilled. She's like, "this is what life with Matt could be like!!" Yeah, a series of near-death experiences and premature aging.

Also, does this feel like the kind of date they should be on right before hometowns? How does watching a girl wreck the sh*t out of a fancy car tell you anything about if you're ready to meet her family? It just feels super shallow and superficial to be having before such an important week. Case in point: Jessenia starts talking about her family, and you can tell Matt is super uncomfortable. He'd like to go back to the part where he had her spread over the front of that car.
God, he loves to dangle those roses in front of their faces right before actively not giving them out. It's sick. He's like, all but caressing Jessenia's face with it and then he's like PSYCH!! YOU'RE OUTTA HERE!! Look, I'm not saying these are indicators for sociopathic behaviors but I'm not not saying that either…
Honestly, we should have known he was going to send Jessenia home when he showed up to dinner wearing a sweatshirt and not a turtleneck. Really, he couldn't have been more obvious.
The Rose Ceremony
Going into the rose ceremony, there are only three girls up on the chopping block: Michelle, Bri, and Pieper. Personally, I would love to meet the woman who thought it would be cool to mutilate the spelling of "Piper" for an entire person's lifetime, and so, would selfishly would like Matt to choose her if only for my own entertainment. It's really what he's here for anyway.
I guess I'm not meant to have nice things because Pieper is going home, making our final four: Michelle, Bri, Serena, and Rachael. Okay, I LOVE that Pieper says nothing to Matt on her way out, just barrels right into that limo. He's lucky this girl doesn't have access to his home address because I have a feeling he would come home to find his belongings ablaze if she did.
And that's all she wrote, kids! Hometowns are next week, and I can't wait to see what the ABC interns are able to craft up as a representation of a hometown since traveling is still out. Here's hoping we get more "New York-style pizza" from the Sbarro's down the street and another papier-mâché carnival cobbled together with rubber cement and the crayons they found at the hotel's lost and found. Until then!
Images: ABC/Craig Sjodin; Giphy (4); @bachelornationspoilers /Instagram (1); @thebetchelor /Instagram (1)