Gather 'round, boys and girls, for a tale as old as time: boy meets girl, boy falls for girl, boy asks girl if she… *checks notes* exchanges sex for money? And people say The Bachelor isn't a source of good wholesome fun!
When last we left off, our favorite producer plant/mental health wellness queen, Vibrator Girl, had just let Matt in on a fun little house secret: if you put 20 women in a room together and give them nothing but time and low-calorie wine, they will find cruel and unique ways to ruin each other's lives. Case in point: Anna. Though she spent the first three episodes of the season doing nothing but giving me nightmares with those veneers, last week she decided that the best way to get a man's attention is to sacrifice the reputation of her competition over the burning flames of a sex-shaming rumor.
You'll recall that she came up with this truly wild rumor that the new girl Brittany is one of Chicago's most elite escorts. First off, Anna, sex work shouldn't be something shameful, so even if this rumor were true, what's your point? Secondly, I'm pretty sure the validity of this rumor can be traced back to a singular Instagram DM from a Russian bot pretending to be a 21-year-old fitness influencer named Carli. I'd like to see the receipts, Anna!
The Rose Ceremony
Which brings us back to the present. It's a new week but hostility is still running high. Surprisingly, Victoria does not look completely horrible. Her hair is shiny, her makeup is flawless, and I can't even see one bra strap. There's nothing that gets you that good glow like sucking the will to live out of a twentysomething named Brittany, amiright V?
At the rose ceremony Matt gives a speech that addresses the "mob mentality" in the house. Sadly, he does not start off his speech with "hell no, I did not leave the South Side for this" and it is a missed opportunity. For shame!
Matt pulls Anna aside to get to the bottom of this rumor, and I truly can't wait for her to explain herself. How do you spin "I'm trying to ruin a girl's life but in, like, a fun way" to a man you're also hoping to share a life with eventually?
ANNA: I'm very popular in Chicago. It's why so many people were messaging me about this girl before coming on the show.
ME:

Hahahahaha. Okay, Anna, you gotta stop leading with the fact that you heard this information on Instagram. You're not helping your case.
Matt finally learns the nature of the rumor (that Britt is a supposed escort) and I love how aghast he's pretending to be. I'm not buying that you've never hired an escort before, Matt. I'm just not.
PRODUCERS: *describes the definition of an escort to Matt off camera*
MATT: That's… illegal?
As Anna pleads her case to Matt, Victoria is in the process of throwing the remnants of Anna's character completely under the bus. She's like, "you know Anna was being super harmful with those comments about Brittany being an escort." Yeah, and I'm sure your comments about Brittany being a "stupid hoe" were just all in good fun!

Matt lays down the hammer and sends Anna home almost immediately. Tbh I've never been more turned on in my life. Actions actually having consequences? Matt, you're speaking my love language, sweetie.
This rose ceremony has to be the biggest mood killer for Matt. He's just trying to get some wide-eyed kisses and these ladies are asking him to mediate the drama at their sisterhood retreat. The ladies are still not pleased with the "safe space" Matt tried to create by sending home Anna. He still needs to behead the actual snake: Victoria and her booby tape.
MATT: And when you said Ryan was hoe for being a professional dancer—
VICTORIA: That was taken completely out of context!
To be fair, I think she said Ryan was a "f*cking hoe", so get your facts straight, Matt!
Okay, Victoria's logic is painful to me. She's got all of the deductive reasoning skills of a drunk girl trying to finagle another tequila shot out of the bartender despite the fact that her nipple is a little bit out and she can't remember the word for "shot" and keeps calling it a "baby drinks."
I love that throughout all of this Katie hasn't owned up to sh*t. She's standing there watching the mob of mean girls devour each other whole while remaining completely untouched and I LOVE IT. She started this entire thing, and not only has she been able to keep her name out their mouths, but she managed to get rid of all her competition in the process. Ladies, we are in the presence of a queen.
KATIE AT THE ROSE CEREMONY RN: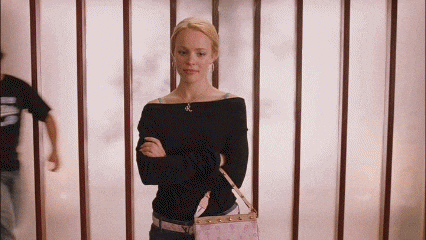 Ah, I see that Victoria is back to looking like sh*t. All is well in the world again. She shows up to the rose ceremony looking like a waterlogged mess, and I think she knows her time is almost up.
Here's the rose ceremony body count:
Miss Puerto Rico

Mari

Lauren

…QUEEN V?!?!
Not only is the wicked bitch of the west going home, but BOY does she go out with a bang. She tells Matt that she feels sorry for him, and I just audibly gasped so loud my dog startled awake. She's like, "he didn't even say anything, he just stared at me!" and it's like, yeah girl, your entire bra was out. What else was he supposed to do!
View this post on Instagram
Wow wow wow. I can't believe Queen V is finally gone. On her way out she boldly declares that she will "never date another Matt again" and I think I can safely speak for all Matts when I say they're fine with that. Good luck though, Vicki!
Rachael's One-On-One Date
The next day is like the calm after the storm. Some girls are finally feeling safe enough to stop sleeping with a makeshift shiv under their pillows. Others are just glad they made it out of the rose ceremony with their eyelash extensions still intact. Kit tells us that she's hoping things will be "less dramatic" in the house. I really hope with Victoria gone, Kit can finally grow into the villain I always knew she could be. She just has the face of someone who tortured people at boarding school. Does she not?
Rachael gets the first one-on-one date of the week and Matt treats her to a shopping spree. Every season they do at least one Pretty Woman shopping date and it's like, what does this date even prove about your partner? That she appreciates a nice romantic swipe of your black card? That he's very into the color beige? That's not even Matt's real money!

I mean have you ever seen so much beige in your life!!
Side note: Did Matt only pack turtlenecks for this trip? Why is he always wearing these on dates? What is he hiding under that extra fabric? TELL ME!!!
I love how a mere 24 hours before, Matt was vowing to create safe spaces for the women and now he's making Rachael walk into a room full of girls armed with nothing but her wits and 20 bags of designer clothes. He might as well have given her a paper cut and shoved her into a shark tank.
Rachael says something about falling for Matt and it's like honey, baby, sweetie, no. You aren't falling in love with him. That's just the serotonin from the shopping trip talking! She gets the date rose and, I'm sure, a special place on MJ's hit list.
The Group Date
The big group date this week takes place on a farm where the women are instructed to do various farm tasks by a man known only as "Ty." Sketch. He's either a very strangely branded farmer or a man whose kink involves watching hot millennials ruin their hair extensions with horse feces. It's hard to tell.
Matt takes it upon himself to remind the ladies that he's from Raleigh, NC and he's just a country boy at heart. As a person who is also from North Carolina, I can tell you right now the closest Matt has ever come to a farm animal was the time he walked through the Dixie Classic Fair. You know how to longboard, bro, you're no bumpkin!
Watching these women ruin their gel manicures as they shovel sh*t is truly putting years back on my life. Ladies, thank you for your service. I needed this.

JESSENIA: MJ is ~chickening~ out
Jessenia, sweetie, leave the jokes to the professionals.
Not much else happens on the group date. Apparently mud and manure are turn-ons for Matt, because he uses this date as an opportunity to reenact some farmer porno with any girl willing to ruin her hair extensions with a roll in the hay. For the most part, though, the date focuses on MJ's reckoning. During the cocktail portion of the evening, Matt confronts her about being one of Victoria's minions. He wants to know her specific role in mean girl mob. Like, did she take part in the verbal abuse or was it more of a slut sneeze situation?
Here's the thing about MJ: I find her to be stunning, but her personality is surprisingly off-putting. She looks like she should be in a Free People ad, but then she opens her mouth and I have the immediate urge to hand over my keys and wallet so nobody gets hurt.
MJ: I heard one of you called me an antagonist?
ALSO MJ:

Ok, she is TERRIFYING. I would not want to cross her in a dark alley. I feel like she must be hiding some booby traps in those ringlets of hers. Good luck dealing with that, ladies!
Kit's One-On-One Date
Kit gets the second one-on-one date of the week and we learn that Kit is 21. I'll let that sink in for a moment… twenty.one. That means (if my math after three glasses of red wine is correct) that she was born in the year 2000. 2000!! It should be illegal for her to be on this show. The reason she hasn't found love yet is because her brain hasn't even stopped developing! I'm pretty sure her Bumble settings caps a suitor's age off at 23! This is absurd.
Also, I totally forgot that Kit is the daughter of Cynthia Rowley (a super famous designer). Yet another reason it should be a crime for her to be on this show. She doesn't need ABC to find her a boyfriend. Eventually someone will come along who will love her for her money. She's all set!
KIT: My life is red carpets and gold Bentleys but I just want to be a regular girl
ME, A REGULAR GIRL: I wish gold Bentleys were on my list of complaints instead of the broken-down Hondas I have to deal with.
So… let me get this straight. Kit's sob story is that she has… white privilege? You guys, I cannot take Kit seriously. If Matt ends up with her, I'm rioting.
MJ vs. Jessenia
In a shocking twist, we end the week with the announcement of a two-on-one date: MJ vs. Jessenia. In one corner, we have MJ, who looks like she would write that you like anal on a bathroom stall. In the other corner, we have Jessenia, who I was not aware was a contestant until she started butchering jokes on my television screen just this evening. How did this blood feud begin? With vicious name calling (and by "vicious" I mean using terminology found in a powder puff football game). Look, I'm not a fan of MJ by any means, but this drama is sooooo petty. Who cares about this varsity/JV thing? Did it end with Olivia Benson needing to be called onto the scene? No? Then I don't care about it.
Anyway, catch you betches next week for what I'm sure will be the thrilling conclusion to this feud nobody asked for.
Images: ABC/Craig Sjodin; Giphy (4); ABC (1); @tvgoldtweets /Instagram (1); @bachelornation.scoop /Instagram (1)