Kim K. Actually Got Trump To Do Something Good
Well, Kim Kardashian is probs getting into heaven now. On Wednesday, President Trump officially pardoned Alice Marie Johnson, the 62-year-old grandmother serving life in prison for a first-time nonviolent drug offense. Last week, Kim went to the White House to plead Johnson's case in front of Trump, which resulted in this excellent news and also in this photo, which is even weirder to look at than those pics of your ex with his new gf:
Great meeting with @KimKardashian today, talked about prison reform and sentencing. pic.twitter.com/uOy4UJ41JF

— Donald J. Trump (@realDonaldTrump) May 30, 2018
(This image will probably be in textbooks someday. Sit with that.)
This all started when Mic reported on Johnson's story back in October 2017. When Kim came across the video, she made it her mission to get clemency for Johnson. She even started talking with Ivanka and Jared on the phone multiple times, which you know means something is serious. (Cause does anyone talk to Jared Kushner on the phone for fun?) Eventually, Jarvanka got Kim into the Oval Office for a meeting of the reality stars, and while Trump apparently couldn't be bothered to stand up for their picture together, he did one reasonable thing and commuted Johnson's sentence.
When Kim heard the news, she tweeted:
The phone call I just had with Alice will forever be one of my best memories. Telling her for the first time and hearing her screams while crying together is a moment I will never forget.

— Kim Kardashian West (@KimKardashian) June 6, 2018
I never expected something Kim Kardashian wrote on Twitter to make me tear up in a good way, but this is 2018 and life is all kinds of batshit.
So I guess you have to be a celeb to get the president's ear right now, but hey, the most important thing is that Johnson gets to go home, which she should've been able to do fucking years ago. Kudos to Kim for killing it on prison reform. Meanwhile, there's still no sign that Kanye understands slavery.
Heads up, you need to keep up with the news. It's not cute anymore. That's why we've created a 5x weekly newsletter called The 'Sup that will explain all the news of the week in a hilarious af way. Because if we weren't laughing, we'd be crying. Sign up for The 'Sup now!
Díos Mio! Spain's New Prime Minister Is A Certified Snack
Keeping with the current theme of "literally everyone in the world gets a hot leader but us," Spain just elected a new Prime Minister, Pedro Sánchez, and he was sculpted with love by the Gods of political hotties. Move over Justin Trudeau, there's a new hot Prime Minister in town, and his home country is warm. Como se dice, "zaddy" en Español?
Pedro Sánchez is a member of the Spanish Socialist Workers Party who was sworn in on Saturday by King Felipe VI. This is pretty impressive considering he was ousted from his own party only a year ago. Sánchez is resilient and tenacious which are my two favorite qualities in people who also happen to be very hot. The New York Times described him as "photogenic" which is a very respectful way of saying "holy hell this Prime Minister is sexy AF." Here he is, standing with conviction and hotness like the leader we all need:
And I'd like to congratulate new Spanish PM Pedro Sanchez for his automatic induction into the Hot World Leaders Club. pic.twitter.com/ubqEyCuE38

— Nora Biette-Timmons (@biettetimmons) June 1, 2018
In 2015, Sánchez attacked the character of the current Prime Minister, Mariano Rajoy in a televised debate. Sánchez accused Rajoy of overseeing corruption in the Popular Party, the Republican party equivalent in Spain. Rajoy then said Sánchez was a disrespectful politician, most likely because he was probably jealous that he's not hot, and the corruption accusation was put to rest. Then on Friday, a court ruling confirmed that Rajoy had been benefitting from a slush fund and our night in shining sexiness, Pedro Sánchez, organized a parliamentary revolt. I'm imagining him storming a castle on horseback with a team of equally hot radicals, but it was probably more civilized. Essentially, this is what would happen if a hottie accused Trump of collusion with Russia, then Trump was like "lol shut up you're a brat," which then caused that hottie to be ousted by liberals until collusion was confirmed. Trump would then be impeached and we would get a president with a strong, firm handshake.
Here's Pedro again, with active listening skills:
El presidente del Gobierno @sanchezcastejon recibe en #LaMoncloa al presidente de #Ucrania???????? @poroshenkohttps://t.co/EDatV54Jre pic.twitter.com/5GJcVZ3Yj4

— La Moncloa (@desdelamoncloa) June 4, 2018
Here he is doing what I can only assume is a hilarious impression of Trump's hands:
La tarea de los demócratas ahora es no olvidar y contar la verdad. No hay que permitir que ETA imponga su relato. La tarea es reivindicar nuestra democracia. No hubo un conflicto, sino una banda terrorista que quiso imponer su totalitarismo. pic.twitter.com/c1EbdDjZdf

— Pedro Sánchez (@sanchezcastejon) May 4, 2018
The socialist party only currently holds one quarter of the seats in parliament which means Sánchez will have to bring together the far-left Podemos and nationalist parties which helped get him elected. A former socialist mayor of Barcelona, Jordi Hereu, said, "It's going to be complicated for Sánchez, but the fact that both sides are ready to dialogue is in itself a step forward." Wait, both sides in Spain are ready to dialogue? Maybe all we need is a president with a fire look and we can also get a dialogue going. For now, I'll be practicing my high school Spanish on Mr. Sánchez until he can no longer resist: "Hola guapo, donde esta la biblioteca? Eres mi novio ahora, gracias."
Heads up, you need to keep up with the news. It's not cute anymore. That's why we've created a 5x weekly newsletter called The 'Sup that will explain all the news of the week in a hilarious af way. Because if we weren't laughing, we'd be crying. Sign up for The 'Sup now!
Harvey Weinstein Was Arrested And No One Is Sad
Get ready to celebrate some good #MeToo news for once, because rancid swamp demon/movie producer Harvey Weinstein finally turned himself into the authorities on Friday morning, and was arrested on charges of rape and sex abuse. That's right, at least one shitty Hollywood man is going to face actual legal consequences, instead of laying low in Italy for a few months before resurfacing to make some movie about how he's "grown" and "changed."
Weinstein kicked off the Me Too movement when The New York Times and other outlets reported last October that he'd spent decades sexually harassing pretty much every actress you've ever loved, plus the occasional potted plant. Multiple women alleged that he'd gone beyond creepy massages and unwanted bathrobe-modeling to full-on assault, but for months, it seemed like maybe Weinstein would be able to get away with just having his career canceled while attending sex rehab as half-heartedly as a hungover college student attends a 9 a.m. sociology lecture.
But on Friday morning, women everywhere got some justice as Weinstein perp-walked out of an NYPD precinct in handcuffs. According to The New York Times, he was arrested and arraigned on charges of first-degree rape and third degree rape in one case where the accuser remains anonymous, and on charges of first-degree criminal sex act for allegedly forcing former actress Lucia Evans to perform oral sex on him.
Weinstein will put up $1 million for bail, and will have to wear a monitoring device before his trial. He plans to plead "not guilty" to the charges, and I'm sure approximately 0.00% of women in the world will believe him.
There's still a ways to go before Weinstein ends up in prison (fingers crossed!), but all in all, Friday's perp walk was a much-needed first step, especially after fucking Morgan Freeman.
Heads up, you need to keep up with the news. It's not cute anymore. That's why we've created a 5x weekly newsletter called The 'Sup that will explain all the news of the week in a hilarious af way. Because if we weren't laughing, we'd be crying. Sign up for The 'Sup now!
All The Random Shit White House Officials Bought With Your Tax Dollars
Ever wonder where all those taxes you just paid end up? These days, they go toward funding the lavish lifestyles of Trump Administration officials. Unnecessary shit taxpayers (aka you) have already paid for include: fucktons of private jet travel, inexplicably lavish office furniture, a soundproof phone booth, and countless nights at Mar-A-Lago for Secret Service members protecting the president on his weekend trips. Read on to find out what else you've unwittingly bought Trump and his associates. You must have missed your 'Thank You' card in the mail….
Travel (Aka Private Jets)
The Trump Administration's travel habits are lavish enough to rival the Kardashians, or the richest girl in your sorority on her semester abroad. This shit has gotten so out of control that House Democrats are asking for hearings on whether the cabinet's "extravagant air travel" is even legal.
In his first year on the job, EPA administrator Scott Pruitt spent $168,000 on flights, most of which were first class or charter. Pruitt claims he can't fly coach because it's full of poors "there's not much civility" from his fellow passengers. As in, everyone hates him and probably asks him what his beef is with Mother Earth, a question he doesn't want to answer before choosing his in-flight movie.
Treasury Secretary Steven Mnuchin and his wife Louise Linton spent a million dollars riding in military planes in 2017. This was before Louise attempted to go full Instagram influencer by posting an image of the couple deplaning and tagging the designer brands she was wearing. In classic Real Housewife fashion, she then went on to post a psychotic paragraph-long rant talking shit in response to a commenter who complained about paying for the trip. Classy!

Sidebar: I can't decide if Louise Linton is a demon, or goals. Perhaps she is both…
Tom Price might have won the surprisingly competitive contest for which cabinet member can burn public money fastest, after resigning in shame due to the revelation that he took 24 private jet flights in 5 months.
J/K! Not to be outdone, the Trump family spent over $13 million on travel expenses during Trump's first year in office. Some highlights include a $66,000 ski vacation for Jarvanka and a $97,830 jaunt to Uruguay by Eric. Wait so, no trips for Don Jr.? Guess we know who the least favorite is…
Office Furniture
Despite voicing no opposition to Trump's proposed multi-billion dollar cuts to his Department of Housing and Urban Development, Ben Carson is apparently fine with the agency spending $165,000 on lounge furniture and a $31,000 dining room set for his office. A federal employee claims she was demoted for refusing to outspend the $5,000 budget limit, after being told anything less than $5k "could not even purchase a decent chair." Where the fuck do the Carsons buy their furniture? Just go to ABC home like normal absurdly rich people.
Meanwhile, Scott Pruitt installed a $25,000 soundproof phone booth in his office, presumably so he can take bribes from oil companies and call phone sex hotlines. Ryan Zinke's Interior Department paid $139,000 for a set of new office doors, and these don't even appear to have any special corruption-enabling features. Lame.
Security
Congress allocated $60 million to refund New York City and Palm Beach for the extra police presence required to protect Trump's alternate residences. Joining all the shady bros we've already catalogued living in Trump Tower, the US military rented a unit for $130,000 a month. The Washington Post estimated that protecting Mar-A-Lago cost $6.6 million in spring 2017 alone. Meanwhile, I just paid and account $250 to get me back $300 in taxes. Grool.
Other Random Shit
Scott Pruitt, our favorite climate change denier, rented a condo for himself and his daughter who is interning at the White House (I'm sure she got that position totally based on her own merit) from a lobbyist for the oil and gas industry for a casual $50 per day. Considering it costs $50 per day just to *think* about living in New York, I'm offended.
Ben Carson asked staffers if he was allowed to use public money to pay for a $25,000 portrait of himself. (He is not.)
To top it all off, the American government spent $59,585 on golf cart rentals for for Donald Trump in 2017. Casual reminder that this is the same man who spent 8 years criticizing Obama for golfing.
Overall, this cabinet seriously rivals the Rich Kids of Instagram and the Real Housewives of New York on obnoxious spending. I can't believe I'm paying for this shit. Now if you'll excuse me, it's time to black out on the vodka I purchased with my tax return.
Heads up, you need to keep up with the news. It's not cute anymore. That's why we've created a 5x weekly newsletter called The 'Sup that will explain all the news of the week in a hilarious af way. Because if we weren't laughing, we'd be crying. Sign up for The 'Sup now!

Images via (Giphy)
We Have Definitive Proof That Congress Is Just A Frat House
Isn't every frat bro's worst nightmare graduating and leaving the glory days behind? Well, they're in luck because they can just run for the House of Representative and spend the night with their legislative brothers. Yes, you heard me right. Congressmen sleeping in their offices, essentially getting free housing and not paying taxes on their place of residence, all while cutting government funding programs, is apparently a thing. It's a elected official's fuckboy's wet dream, really. 
WTF Is Going On?
If a building has Greek columns on it, it's automatically a frat house, right? It seems that somewhere between 50-75 elected officials (mostly men, because duh) have chosen to essentially live at their offices. This means they are receiving all of the bennies, such as free cable, free security, and free utilities during non-office hours. Fyi, it's potentially a violation of an ethics code that prohibits official resources from being used for personal use, so there's that. It's also like, really gross. Like, go stink up your own home with your morning breath, Paul Ryan.

Remind Me Why I Care?
Thirty GDI members from the Congressional Black Caucus (CBC) have decided the party is over and wrote a letter to the Dean of Congress, aka the House Ethics Committee. They stated that not only is it unprofessional and unsanitary, but also a misuse of government funds to live for free in the office. The CBC is on a mission to take down frat row and prohibit any lawmaker from using their office as a home too. Some women and Democrats are also partaking in the frat life, but most are also pissed and grossed out by it all. Another reason for this happening is that members are already on probation for certain bros dealing with sexual misconduct accusations. Again with the frat house similarities.

Who Wants To Live In An Office?
Members have been doing this for years and in the past have been praised for how frugal they are for couch surfing. Most members are in DC for less than 150 days a year, so paying $2,000 in rent just seems like throwing away money. In fact, members have been passed over for a pay promotion for seven years in a row now. It's almost like they aren't making good enough grades for Greek life to give them more funding. The office life isn't so bad though. There is a cleaning service, en-suite bathroom, mini fridge, and microwave ready to go, exactly like my freshman year dorm. The idea of laws being made in an environment similar to my dorm life is legit terrifying.

It doesn't seem like the House Ethics Committee is in a hurry to do anything about this, seeing as it's been two months since they received the letter of complaint. Looks like Greek life is on for lawmakers at the White House. Rush Congress 2018! It's not four years, it's for life until Trump fires you.
Heads up, you need to keep up with the news. It's not cute anymore. That's why we've created a 5x weekly newsletter called The 'Sup that will explain all the news of the week in a hilarious af way. Because if we weren't laughing, we'd be crying. Sign up for The 'Sup now!
Images: Giphy (3)
Is Sex A Good Workout? I Wore A Fitbit To Find Out
Let me start this off by saying, if you don't want to hear about my sex life, then you're just jealous you should probably read something else. Now, let's talk about what you all are dying to hear about: the time I courageously wore a Fitbit while having sex and decided to document it on the internet.
My boyfriend and I have been dating for two years and we've done it 298 times a lot, qualifying myself as a very sexually experienced person. What am I not as knowledgeable in, you may ask? Exercise. I'm the girl who gets out of breath walking up a flight of stairs, running to catch the subway, or dancing at the club.
Needless to say, I don't own a Fitbit so I had to borrow one for this experiment (thanks, mom).

Call me crazy, but I'm much more motivated to work harder in bed than I am to work off that pizza. But hey, to each their own. Since I am that dedicated to my craft, and my boyfriend's over-enthusiastic cooperation, we did it twice—once when I wore the Fitbit, and once when he did. And like any guy, he definitely did not complain.
We learned a lot during our night of research. I even had to stop to take notes… romantic, right?
When wearing a Fitbit, it takes about 10 minutes of movement for it to begin tracking your movement as exercise. Therefore, after 10 minutes of making out and some foreplay, our Fitbits started tracking our activities as "aerobic workouts." Within the next 22 minutes or so, I burned an average of 173 calories during the two times we had sex, while my boyfriend burned an average of 181 calories. This included sex that lasted an average of 8 minutes—impressive, right? I'm a lucky gal.

As predicted, both our heart rates spiked, high enough to be in the fat burning zone, during our respective orgasms. My heart rate escalated as well when I was on top, while my boyfriend's heart rate decreased. These numbers were reversed when the position was flipped since whoever was doing the most banging at the time got the most bucks—er, beats.
To put this into perspective, my resting heart rate is 77 beats per minute, while my boyfriend's is 71 beats per minute. During our fooling around session, my average beats per minute escalated to 119 and my boyfriend's to 122.
But seriously, what the fuck does this mean? In short, although sex may be fun, it cannot replace your regular run on the treadmill where you'd burn over 230 calories in the same amount of time.
So what did we learn? We should have more sex reserve sex for pleasure and the gym for exercise. What you do between the sheets is not equivalent to what you do at the gym. It just isn't. But the harder you work, the more you can justify skipping the gym to yourself.
10 Turtlenecks That Will Make You Look Like An Instagram Fashion Blogger
Want to pretend like you're the type of woman who works out before heading to her job in finance instead of the type of woman who binge-watches Netflix and stalks her ex's Instagram activity all day? One word: TURTLENECK.
It's turtleneck season, betches, and the 90s staple is seriously having a moment right now. Just Google "turtleneck Gigi Hadid" and you will be immediately shook. What makes every single one of her outfits complete? A turtleneck. Every It Girl is rocking them these days. From the Hadid sisters to hilarious Insta queen Morgan Stewart, it's an item that immediately takes your look from middle to high class, yet can only cost you around $25 and no one will ever have to know. People are so obsessed, that there's literally an Instagram account called "turtleneckpics". THAT'S how much people love them. (Ok, shush, so they haven't posted since 2016, but that's besides my point.)
And let's be real: Everyone knows that with all the weight you packed on over the holidays, you could really use some extra coverage for that double chin and lack of clavicle (honey, not even Facetune can help you rn). Therefore, what better way to slim your neck and collarbone area than with a comfy piece of fabric? Also, it's freaking freezing outside. Your mom will be so happy to hear you're finally covering your neck.
So, congrats! You're now an Insta fashion blogger who uses LIKEtoKNOW.it and are a proud member of #TeamTurtleneck. Where do you go from here? Don't break your neck trying to search online (ok, I'll stop). Scroll down to find 10 of the hottest turtlenecks on the market right now that will turn heads and won't break the bank.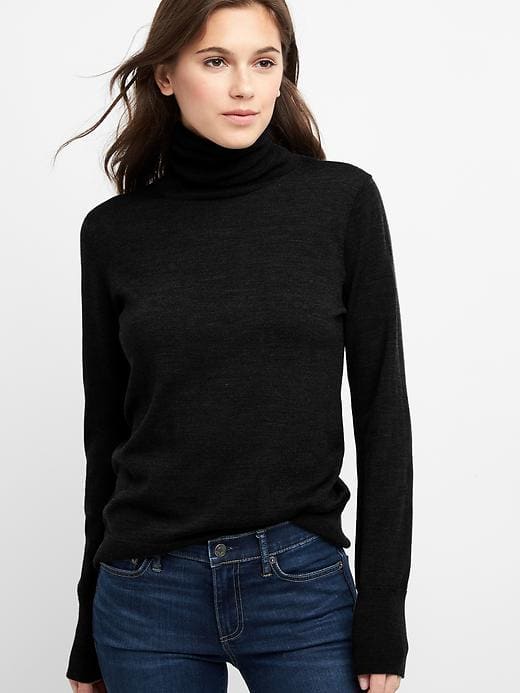 If these are out of your budget, or if you just maxed out your credit card for the fourth time (new year, same you!), then the next time you go home, raid your mom's closet. You can also hit up your local Goodwill or thrift shop. You may be shocked to see all the gorgeous cashmere or cotton turtlenecks you find from the 90s or early 2000s. I literally wore my mom's wool turtleneck from the 90s the other night and I've never received so many compliments in my entire life.
We Went To A 'Mean Girls' Themed Brunch, And It Was So Fetch
Get in loser, we're going brunching.
New York City's 5th & Mad Jingle Bell Rock-ing Brunch is the one time of the year when a girl can dress like a total *Mean Girls themed* slut and no one other girls can say anything about it. So the betches of Betches decided to check it out. Upon arrival, our table was covered with candy canes, condoms, no carbs, and bottomless champagne. Did I mention bottomless champagne? Yes. Plus Mean Girls was streaming on every flat screen around. Naturally, our table was labeled the Plastics. Duh. We were all wearing pink. Next to us were the Unfriendly Black Hotties, who were actually friendly af—we were all singing "Jingle Bell Rock" together when it came on. The Sexually Active Band Geeks and Girls Who Eat Their Feelings were also nearby eating their hearts out with chicken and waffles.

The Mean Girls soundtrack was also playing. You know that whole "God is a DJ and life is a dance floor…" song? Yeah, that song is a good af. And there was a random "Jingle Bell Rock" dance-off and people were like, really getting into it. I mean not just people wearing the sexy santa outfit, like everyone.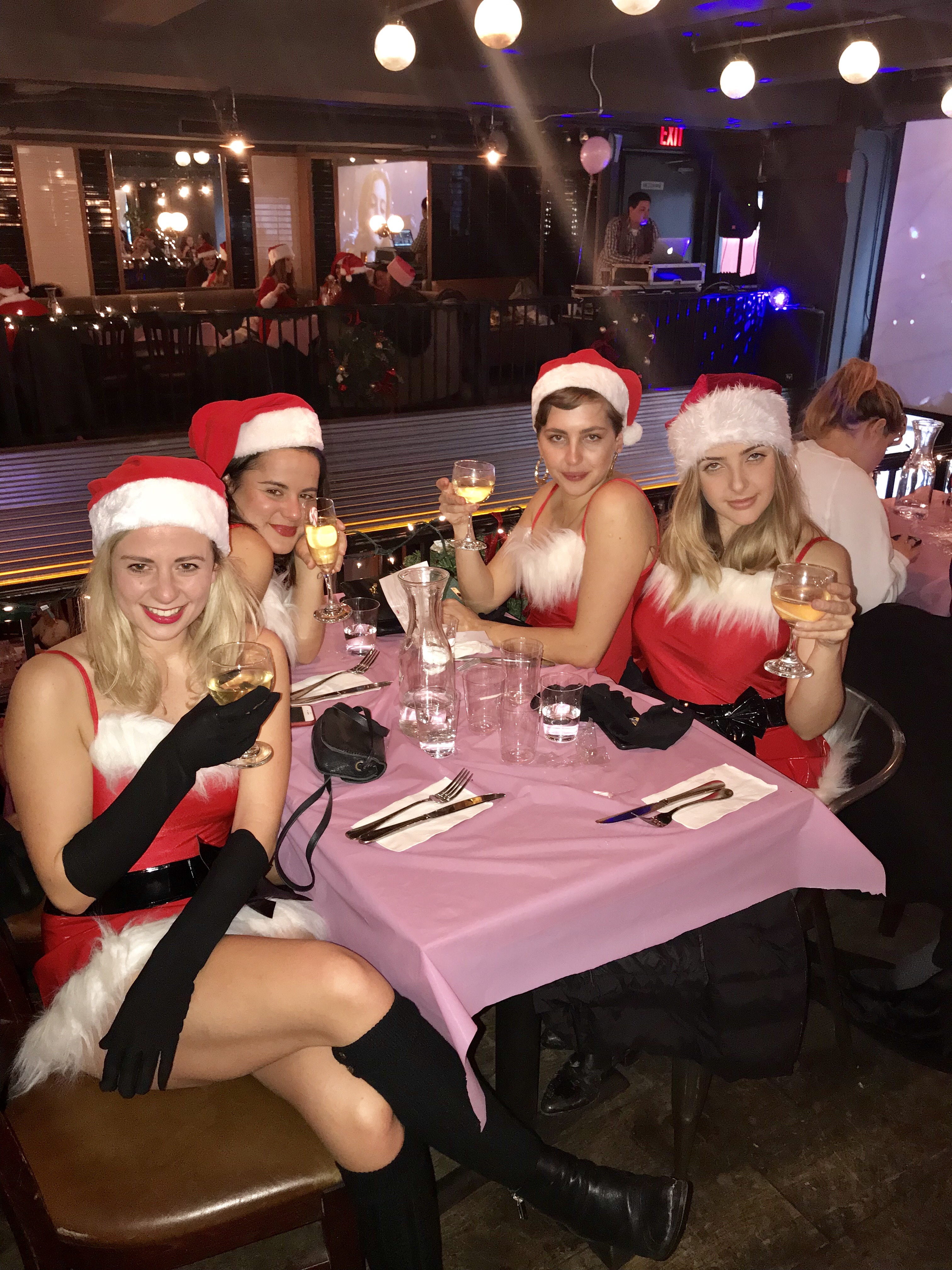 Some people dressed up as Regina's hot mom, in full a pink sweat suit, which was actually… can I say it? So fetch.

The only thing that was missing was a guest appearance from Lindsay Lohan but I understand she's busy, like, living in London and shit. Whatever.