Armin Van Buuren has been called many things, like "the flag-bearer of the trance movement" and "among the world's biggest DJs and producers for over 20 years." That's longer than some of you reading this have been alive. He's a five time #1 DJ in the world according to DJ Mag and has picked up a Grammy nomination for his song "This Is What It Feels Like". He sold out Madison Square Garden as the first solo dance artist to play there. Simply put, he's a big fucking deal. But he's also a great guy. We got the opportunity to chat with Armin Van Buuren at Electric Zoo, where he dished on why he loves New York, where he gets his inspiration, and more. Read it below.
It's really great to have you at EZoo. We're so excited. What brings you back to this festival year after year?
Uh, the invitation from the organizers. I was here the first edition. There was some drama around this festival a couple of years ago, I don't know if you remember, and the city was investigating if they would give another permit. So they wanted to have a couple of the artists actually on the phone, so I was in some sort of weird phone conversation with like, all these people from the city. So like, "So Mr. Van Buuren, why do you think Electric Zoo is important to New York, etc.?" I said, "Well, it is the premier, biggest, electronic music [festival]"… and it's still here, so I guess the phone call helped a little bit.
It was funny because this first Electric Zoo was founded by Made Event, of course, Laura and Mike, who have been supporting me since day one—they're not here, it's now part of a different organization. But it's still Electric Zoo, it's still the same place. Actually, the Main Stage is still located in the same place. I feel a strong connection with the New York people. I've been coming here so many times. I wish I had more time to play here. I love the city. I love the fans here. If you look at the statistics on my Facebook, you can see that the most fans in the world are either in Mexico, LA, or New York.
That's amazing.
It's a draw between that, so for me to be here is actually a little nerve wracking, because you know Frank Sinatra was right.
You sold out MSG.
Yeah, twice. It was a magical thing to play there. I'd give my left pinky to play there again, but it's not the best venue, I think, because you have such a small dance floor; it's seated.
They rip out half of it.
Yeah, like, how's that gonna work if it's seated? I found that… special.
If you had to hypothesize, why do you think that the biggest fans are LA, Mexico, and New York, and not the Netherlands?
You know, it's a wild guess for me too. There's just a love for trance here. Every week, we monitor the social media activity. I have a team of four people. On the show we have an item called "Trending Track," and we see how much people talk about certain tracks or what they think. And "Trending Track" doesn't have to be positive, it can also be negative, but we play it again next week. We see that New York is always taking part of that conversation.
How does it feel to be back in New York?
It just feels great to be back. In a way it feels like home, because I've been coming here for so many years, playing so many gigs here. It's legendary, as you know.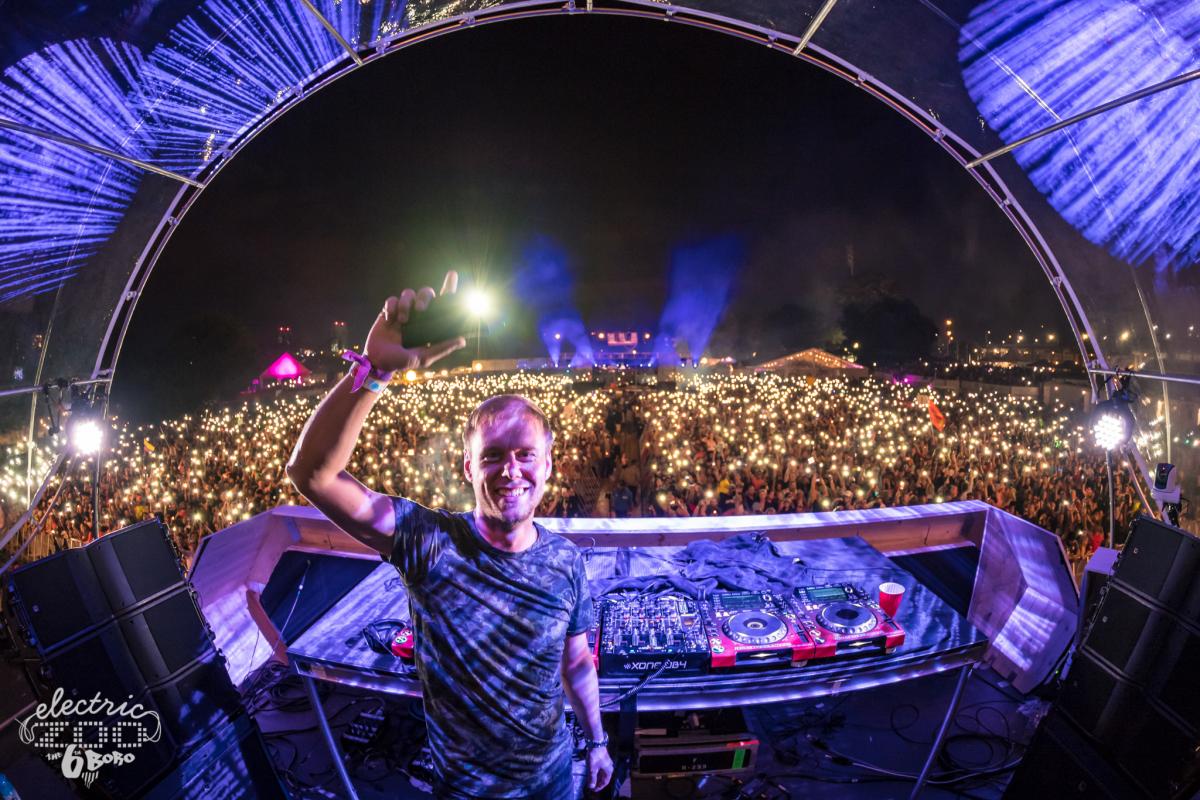 Yes. I really love your new single, "Sunny Days." Can you talk about what inspired it?
To put a long story short, I was in the studio with Gordon Groothedde and Benno de Goeij, and we were creating instrumentals for a new song writing session, and we came up with this particular melody. It was a funny story. I was coming back from the bathroom and we were just jamming away, and there was a guy painting my house. And you know how a painter comes in your house in the morning when you're not really wanting him to be there, but you need your house to be painted? And painters always have this melody that they whistle, so I came back from the toilet, and I whistled literally, [whistles the melody] because that was something a painter would sing, when he comes into your house.
Right. Totally.
Right? You're still waking up and having coffee and "Morning!" And he started playing it on the guitar. Fast forward a couple of weeks later, I had that instrumental and I was visiting Toby Gad in LA in his studio there. Toby Gad's one of the writers of "All of Me" by John Legend. We weren't actually supposed to be writing music, just sitting in his studio. We were just sitting there. I say [to my publicist], "Oh yeah, I have this instrumental that I want to play you." I played him a couple of instrumentals and this was the third or fourth, and they were instantly into it. And then I thought of the hook line. "Oh Sunny Days." We recorded that hook line and I left. A few hours later I got the first demo. I said, "Wow this is amazing. We have to finish it." So they sent me the stems of what they had and I developed it more in my studio in Amsterdam. And then they worked on it a little bit more and we had this track, which was funny, because it's like, wow this is different.
I really love it.
A conscious decision in my career is that, as proud as I am of my past successes, all my albums and my songs are my babies. All my sets have been conscious decisions of that time, but I can't recreate the stuff that I've done in the past. I have to move forward. I have to.
There's some people that do, and I don't criticize them, please note this. Some people, they choose to use the same kick drum and baseline for 10 years; nothing wrong with that. Because if it works, it works, right? The new Pink Floyd album sounds like from the 70s, [that's] what you want. You want it to sound like that. For me, the only way I can make music is if I work with new people, if I'm inspired.
Where do you look for inspiration? You've been in the game for two decades.
Working with interesting people. Looking around you, trying to reinvent yourself. I used to be the guy in the studio that always had the 8R loop, and then adding baseline to it and melody. And now I sit at my kitchen table, literally with a guitar. I'm not a guitar player. I can't even tell you what strings to play, but if I have two chords that sound cool, I'll record them and I'll loop them and I'll make them into a song. I think, "I'm not a song writer. I'm not a guitar player." Why not? There's a song in everybody, and I challenge everybody that listens or reads this interview. Just do it. The only thing between yourself and a hit record is yourself. There's a hit in everybody. It just takes the guts and the determination to actually finish it, and that goes for everything in life. If you want something hard enough, of course talent helps a little bit, if you've done it before it's obviously more easy, but if you can put your mind to it you can accomplish anything. I'm totally convinced. You may not get it at first. It may take a couple of months, maybe even years. But if you work on it hard enough, if you want it hard enough, and if you have original ideas, then you're going to get it.

Is there anyone that you really want to collab with? Living? Dead?
You know, every human being is beautiful in a way, and I'd like to work with anyone that has cool ideas. I've written the most beautiful songs with the most random people. But if you really put a gun to my head, obviously I would say Chris Martin. Of course everyone wants to work with Coldplay.
Then again, I worked with Coldplay. I've worked with some really famous people—I don't want to mention names—but those tracks didn't happen, because it's always about the song. People keep forgetting it. You can work with Michael Jackson in his golden days, but if the song is not right, then it's not right. I tried to work with Deadmau5, it didn't work. It's always about the idea of what do I want the song to be about? Is there an emotion there? Am I feeling this?
You're teaming up with Hardwell right?
Yes, for the AMF Festival. Also, doing a "State of Trance" that week. I just like to do different stuff. As much as I like the trance scene, it's very much in itself right now—which I think is a good place, but as an artist I feel the need to sort of venture out do uncommon stuff. I want to do stuff that's exciting and unconventional. I'm sure some people would've raised their eyebrows, but I'm sure that I can convince Hardwell to be a little more trance-y. You know what I mean?
If anyone can, I'm sure it's you.
"Off the Hook" was probably the trance-iest record [Hardwell] ever made. I see it as a challenge, not as "Oh he's EDM" or whatever you call it. I like Hardwell as a person, he's an amazing guy, a good friend. We're very close and we're friends, so why not? It's not going to be earth shattering if we do one hour back to back. It's not like he's going to be a different person after that. I think people will be excited for that.
As we close up, what's coming next for you? Do you see yourself retiring?
I actually started working on the Gaia album, which I'm super excited about. We have a whole concept behind it, and I'm super happy. But we just started, so that's not going to be finished for quite a while. The two next singles are ready. State of Trance 1000 coming up. Doing the radio show every week, now with video, has been quite the challenge. It's a big change in my life. It's exciting.