It's Singles Awareness Day (vom), and what better way to celebrate than with a dessert-alcohol hybrid? We adapted this recipe by a) making it less fucking work and b) making it slightly more alcoholic.
Also, brownies always have all the fun, and the idea of more chocolate right after Valentine's Day was making us vom. So, we opted for blondies—our favorite butter and sugar combo. Just add whiskey for a super awesome evening date with some sweatpants and hard alcohol.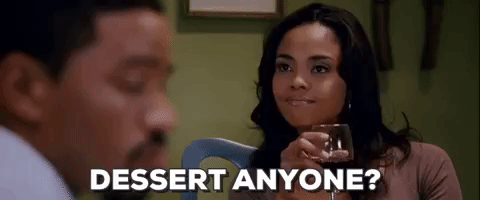 Ingredients
2 sticks of butter, room temperature — YES REALLY OMFG.
1½ cups dark brown sugar
½ cup granulated sugar
2 eggs
1/3 cup of Larceny or Maker's Mark whiskey — PLZ don't use Jack Daniels because ew, you guys
2 tsps. vanilla
1 ½ cups all-purpose flour
½ teaspoon salt
¾ cup candied nuts — we used candied walnuts which we found at a fancy store
Preheat the oven to 350 degrees and while that shit heats, spray an 8×8 pan with Pam.
Grab a skillet and add the butter, stirring constantly—i.e. try not to be distracted—over medium heat or until it sorta browns and smells nutty. Take off the heat and let cool a bit.
In a giant bowl, cream the butter and sugars together until light and fluffy, then add the eggs, whiskey, and vanilla and mix.
In a totally different bowl, mix together the flour and salt, then slowly pour that shit into the butter and sugar mixture. You want this shit to come together, but like, don't overmix it. Kinda like your love life. Anyway, fold in the candied nuts and pour the batter into your greased baking pan.
Bake for about 25-30 minutes, or until a knife inserted toward the center comes out clean. Let this shit sit for a bit and think about what's it's going to do to you, then transfer to a wire rack to continue cooling.
Feel free to pour on a little extra whiskey because like who the fuck cares, honestly. Cut or eat with a spoon out of the pan. We aren't judging