The high cut leg look is definitely the most popular swimwear trend this summer, which is probably due to the fact that everyone's obsessed with looking "slim thick" aka what Kylie Jenner's post-surgery puberty body type is. Since you probably can't afford butt implants, this style suit is the next best thing. If you have any confusion about what a "high cut leg" swimsuit is, just refer back to literally any thirst trap you've ever seen posted on Instagram with a peach emoji in the caption, and I'll bet that the chick is wearing one of these. It's inspired by the suits that the cast of Baywatch rocked. (Obviously, the cast with Pamela Anderson and not the new one with Zac Efron that you probably haven't seen.)
Swimwear with a high cut leg is basically a subtle brag. It's always super flattering, but it's not an aggressive push-up bikini top with underwire. I do, have one complaint about this style. I have absolutely no idea what it's actually called. Every store and designer has a tendency to give it a different name, or just not label it at all. Since they're as difficult to find as a seemingly normal bro on Bumble, here's a roundup of some of the best high cut suits on the internet.
This one piece is a throwback to Body Glove's classic suit from the 80's. Kris Jenner wore it then and Kylie Jenner wears it now, and you know that there's no one you can trust more than a member of the Kardashian dynasty when it comes to a swimwear recommendation.

It's kind of impossible to find a one piece with an open back that shows off side boob but doesn't totally expose the whole front of your chest, but I just did the legwork for you. Plus, I'm pretty sure that it's the exact same color as the pink polish on the nails emoji, so there are definitely lots of Instagram caption options for this one. You're like, so welcome.

These high waisted bottoms are flattering on everyone, and this metallic burgundy color looks perfect on literally every skin tone, so this bikini is a safer bet than assuming that Bella Thorne is googling herself right now.

This sweet little gingham one piece slightly resembles the tablecloth your grandmother yelled at you for spilling ketchup on at her fourth of July barbecue when you were a kid, so maybe your family won't care about the thirst trap you posted with your entire butt showing if you're wearing this.

This high leg set is the swimwear equivalent of ordering a pomegranate mimosa instead of a regular one at brunch. Like, you're kind of switching things up, but you're still being pretty basic. (And that's okay! Being basic is fun af if you do it well enough.) The eyelet detail in this suit is enough to make it look like you're not wearing the same exact thing as every other girl at the beach without straying too far from this specific swimsuit design that Kourtney Kardashian keeps wearing.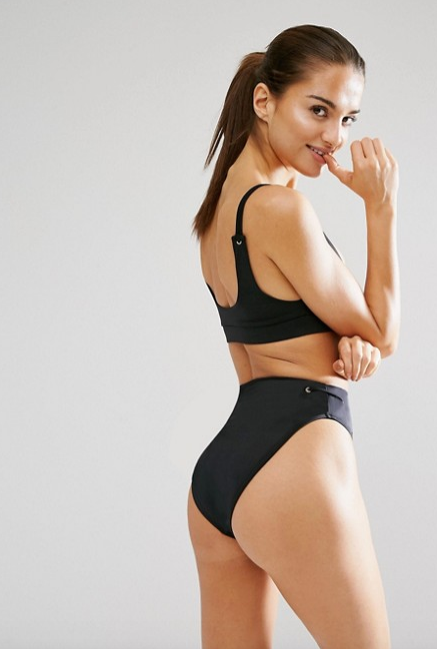 Tie side swimsuits are the number one game changer for girls who love to eat. I swear to you. Just loosen up the ties on the sides after you've got a good bloat going from ripping through your snack cooler at the beach. Nobody will ever know.

This one piece is reversible, so it's basically like having two. One side is silver metallic and the other is apricot. I feel like wearing the silver metallic one on the inside will probably make you sweat, but it's your life, so like, go for it.

Let everyone know why you left the comfort of your air conditioner came to the beach in our adorbs and sexy one piece. It comes in the only two colors that have ever mattered: white and black. Featuring a high leg and a low back, this swimsuit is perfect for taking shadily thirsty Instagram pics in. Or wear it under some high waisted shorts to the bar and watch the free drinks rain down on you.