There's a lot to be said about the winter season. Sure, your skin falls off and you won't see sunshine again for at least six months, but at least you get to act like the lazy, self-indulgent asshole you were always meant to be. There's also the fact that you get to spend some much-needed quality time with family your favorite Netflix shows and no one can say dick about it, because it's too cold outside to actually do anything else. So blessed, so moved, so grateful. Can't believe this is my life. That said, November through March—or, in New York's case, November through June (kill us now)—can sometimes be…kind of…boring. There, I said it! Sometimes sitting on your ass, re-watching old episodes of Friends, and drinking your weight in Chardonnay isn't all it's cracked up to be. Sometimes you kind of want to brave the cold to drink your weight in Chardonnay in public. I know, it's like I'm taking crazy pills or something. But since we can't always have the things we want in life, sometimes we have to get creative with how we spend our time. And what better way to combat boredom than by trying nail art trends as seen on Instagram that you've been talking shit about for months now (but secretly love)? So here are the six winter nail art trends for you to try when there's literally nothing else to do. You're so welcome.
1. Metallic Accents
Metallic accents were huge this year and, in my opinion, they'll continue to be one of the few nail art trends that don't seem like a cry for help extra. The accents pair perfectly with dark winter nail polishes and will take your holiday look from basic to glamorous in less time than it takes you to get drunk and embarrass yourself at the Thanksgiving dinner table.

2. Spacey AF
Negative space nails are about to be every-fucking-where, I'm calling it now. These manicures are chic and modern AF, plus it's an excellent way to make it look like you regularly visit the salon, when in reality, the last time you got your nails touched up it was still warm enough to wear shorts. Gotta love millennials. Leave it to them to turn shitty, grown-out gels into a nail art trend. #BlessUp.

3. Foil Nails
Similar to the metallic accents trend, foil nails are one of the best ways to elevate your look this winter. We suggest pulling this one out around New Year's Eve, unless you actually want to look like you actually give a fuck at your company holiday party seem thirsty. These little strips of metallic foil, cut and placed mosaic-style on your nail beds, make for an artsy, yet chic look.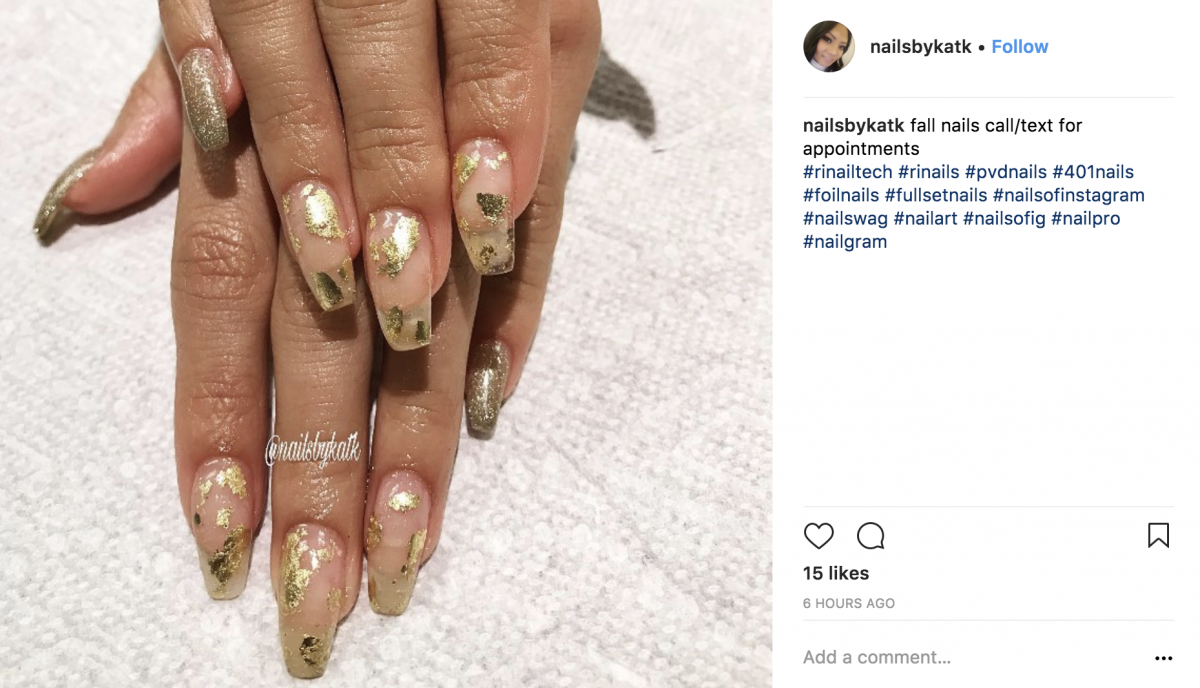 4. Phrase Nails
Finally a trend I can get behind: blatantly talking shit. I mean, I've been doing this on my own for years, but it's nice to know that the beauty community is finally standing by me in support. Phrase nails have been huge this year, and it's like people suddenly have a bunch of shit to say about the state of our world? Honestly, I have no idea why…

5. Minimalist
One of my favorite things to do is to pretend like I have my shit together, and nothing says "I don't spend 3-5 days a week sabotaging my life at happy hour" like minimalist nails. Add a thin graphic lines in a contrasting color for a simple yet dynamic look.

6. Statement Nails
When in doubt, go with a basic statement nail color, like bold red. There is a reason you see this color around the holidays more than your ex texts you, knowing you're home for the long weekend: because it's classy AF. If you're feeling more basic than bold, stick with a traditional holiday color and let the nails speak for themselves.

Images: Allef Vinicius / Unsplash; anniesjamminnails, sarasa.nails, nailsbykatk, sonyameesh, jessicasturch, natalii.es / Instagram