Way too often, dating advice can stray into an icky area. And by icky, I mean letting men sound off at random on the things they don't like about women, so women can go ahead and make sure they never do any of those things. While I understand the impulse—some of my own articles are along similar lines—I thought it would be nice to take a break from deep dives into the male psyche and talk shit analyze men's behavior instead. Here are some of the weirdest first date offenses committed by straight men, as told by my hilarious friends. It's basically a transcript of your next brunch if everyone's recent dates were exclusively terrible. So…your next brunch. Enjoy!
The "Friend Zone" Guy
"Once on a first date, a guy demanded to know about 20 minutes in whether or not I was attracted to him because he had been friend zoned too many times and needed to make sure it wasn't going to happen again. And then I turned very red and said I wasn't sure what to say, and then he later implied he was good at oral sex." – Phoebe, Journalist
Outstanding. IMO, he could have said any one of these three things and gotten the same point across. Let's break it down.
"Are you attracted to me? = "Often, women are not attracted to me."
"I've been friend zoned too many times" = "Often, women are not attracted to me."
"I'm good at oral sex." = "Often, women are not attracted to me enough to want to have sex with me, so I try to convince them that I have other skills to make up for it. Also, I'm not very good at oral sex."
And yet he went with all three. I guess men were never really known for their subtlety. Moving on!

The Guy Who Is Probably A Murderer
"There was this crazy German dude who asked to put noise canceling headphones and a blindfold on me before we hooked up. But again, not clear why because he took them off before we actually hooked up. He just made me sit in silence and dark for like 2 minutes beforehand." – Whitney, Editor
Let's dissect this a tiny bit. I'm very, very concerned about what he was doing for two minutes after blocking out her senses. TBH, my first thought was that he needed to take a massive dump but like, shouldn't he have equipped her with nose clips then too? Other theories are that he needed to complete a quick drug deal, hustle another girl out of his room before she saw, or take pictures of her to add to his collection of polaroids of fully clothed women wearing headphones and blindfolds. All of which, ew. I'm going to disable all of my friends' dating apps. It's too scary out there.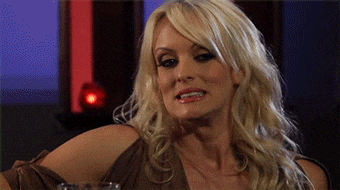 The Awkward Guy
"The last date I went on, we got coffee, except he didn't get coffee. He got a slice of banana bread and ate half and then slowly broke the rest down into crumbs with his fingers while we were talking." – Jane, Hostess
"One introduced me to his parents." – Victoria, Video Game Producer
Say what you will, but I think both offenses are equal level dealbreakers.
The Condescending Guy
"There was a guy who told me he was seeing other girls but he liked me the most because I was "pretty easy to talk to" and "know a little about music." – Emily, Consultant
Like friend zone guy, you definitely, definitely know this guy. You probably worshipped him in high school, dated him in college, and reject him once a week now. This is the guy who confuses "opinions I have" with "good taste," and constantly vocalizes whether or not things meet his standard. And by things, I mean women, which works out because that's how he thinks of them.
The Wild Card
"[He] told me he voted for Ted Cruz." – Lucinda, Grad Student
TBH I'm stuck on what would be worse: having your date tell you that they voted for Ted Cruz, or going on multiple dates with a guy who voted for Ted Cruz without ever knowing.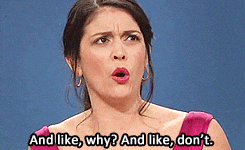 There you have it! The weirdest first date stories I got with a mass text, and they are…honestly, pretty awful. Let's all take this as a reminder to brush up on our fake emergency calls and "bad sushi" lies. Like you've ever regretted a night in.
Images: Giphy (3)