While we regret many decisions from the night before and we swear it off every time we're hugging the toilet the next day, betches love alcohol. We've loved it since we first discovered our parents' liquor stash and once we discovered what a funnel could do to a sorority girl, well, it was just downhill from there. Before the hangover, though, a bottle several glasses of wine make us feel relaxed, (overly) confident, and definitely way funnier than we are. I know, like, binge drinking is sooo bad for you blah blah blah. I know what alcoholism is, I'm not an idiot. We've heard it all, including how much havoc it wreaks on our skin. And yet, that still doesn't stop us from bar hopping every weekend. WELL, joke's on you MOM. I actually found out the only things that keep us sane our fave alcohols can do wonders for our faces. Because we're honestly the epitome of lazy and have a slight drinking problem, here's a few DIY facial masks you can make with your beloved alcohol—that is, provided you can part with it.
1. Bubbly Rosé Facial
This is really not that surprising. Apparently, wine facials are very much a thing and I'm upset that I have shitty friends no one ever told me about them. According to boring people, red wine in moderation (whatever the fuck that means) is like, good for your heart and shit. Therefore, wine = me living forever at the rate I'm going. When applied directly onto your face, rosé also removes excess oil and restores skin discoloration. Mix a tablespoon of plain yogurt (Yoplait won't work), two tablespoons of raw honey (so not the bear shit), and a tablespoon of rosé. Stir it all up and lather on your face for like, 10 minutes before rinsing. Friday night plans? I think yes.

2. Vodka Toner
Um, forget a vodka tonic. It's all about the vodka toner from now on. Tell your therapist that vodka isn't all bad for you, SO THERE. For skin care, it's a great makeup remover (though you should probs keep that shit away from your eyes) and it tightens your pores. All you really need is distilled water and good ol' Tito's. Always keep it to a 1:3 ratio of vodka to water and use a cotton ball to apply to desired areas. If you really feel like being extra, add a little olive oil and rosemary for max results.

3. Malibu Facial
Ah, Malibu. The most basic liquor of them all. Oddly enough, this clear rum offers some pretty damn good benefits for our face. There are a couple of ways to use this. If you're prone to ashy skin, mix some rum and cream together for a crazy good moisturizer. Might smell weird, but also might smell like pineapples. For dreadful areas on your face like your T-zone, mix a combo of Malibu, honey, and olive oil for super soft clear skin that smells like Jamaica and piña coladas. YUM. Rinse off after like, 10 minutes, though.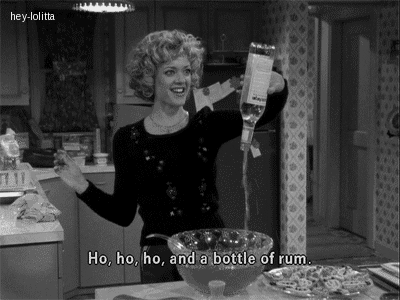 4. Your Dad's Chest Hair Jack Daniel's Facial
If you insist that your love for whiskey is like no other, I'm going to assume you probably wear John Deere and say shit like "I'm not like other girls." For the rest of us, your dad's and your boyfriend's favorite liquor can actually be put to good use when they're not sipping it. If you can snag some, mix two tablespoons of whiskey, a tablespoon of lemon juice and honey, teaspoon of milk, and one egg. OK this isn't the best smelling or sounding combo ever, but your reward is bright, hydrated, firm, wrinkle-free skin, so don't complain. Oh, and no, Fireball will not work so do not even think about it.