When it comes to weight loss and dieting, we've all heard and believed a lot of lies. The Kardashians get their figures by sipping on Fit Tea! Gluten-free is always better! This is how many calories you should eat! No, this! Frankly, it's exhausting. The most damaging of these lies, in my opinion, is "nothing tastes as good as skinny feels." (To those of you doubting me, I lost 7 pounds with a stomach bug last summer. The taste of mac 'n' cheese kicks that feeling's *ss every time.) Not only is this saying wrong because it was coined by someone who has never tasted food (hi Kate Moss! Big fan), it's wrong because it promotes the idea that—no matter what else is going on—you would feel better if you were skinnier.
On that note, I'm sadly confident that every day of my life so far I would've agreed with the statement "my life would be better if I weighed ten pounds less." Even (and especially!) in moments with much, much more pressing issues directly affecting my well-being. So as we all embark on our respective, crazed self-improvement Januarys, here are some warning signs that your weight is not the real issue. In other words, signs that no matter how much you diet, or how much weight you do manage to lose, it's not going to address what's really bothering you. It won't, ultimately, make you all that much happier. And isn't that really the point?
You Constantly Compare Yourself To Others
Comparing yourself to others is a sure way to "fail" any diet plan. As countless trainers have told me when I whip out an inspo picture of Kendall Jenner, no amount of food restriction or exercise can make your body look like someone else's. You can look like a version of yourself with more muscles, or less fat, or with more or less of a noticeable stomach (I'm told—I've never experienced this myself). And that's it! Those are all your options. So if your desire for weight loss is specifically sparked by seeing a certain body type, I'm afraid to say that dieting will not get you where you want to go.
It's a long, boring process to become okay with what you're born with. (And it's one that the wealthier members of our society forgo for plastic surgery.) Whether the boost you need to get more okay with yourself is retail weekly therapy, daily affirmations, or just better bathroom lighting (I cannot recommend this one strongly enough), I can promise you that happiness is not five pounds away. So stop looking at the scale; the answer is somewhere else.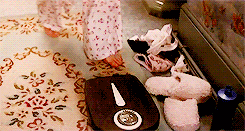 You're Way Too Obsessed With Your Diet
No, this isn't just a fun way to call out vegans and Paleo people. (Though truly, the amount y'all talk about your diets is insane.) One major sign that you're offloading other concerns into one specific area ("I need to lose weight") is when you become incapable of talking or thinking about anything else. When you become so fixated on what you can and can't eat, and when you can expect to see results, and whether or not anything feels different or bad or good all day—it places a huge, untenable amount of pressure on that part of your life. It puts you in a place where you're not able to find happiness from any other aspects of your life (AKA your friends, leaving the house for non-work reasons), and it convinces you even further that the only thing that will make you happy is losing weight.
We're all guilty of going a little overboard with a new venture we're excited about, and I don't want to shame anyone who's put in hard work on a diet. (I did the keto diet for two weeks, and the amount of math involved at every meal almost killed me.) But feeling like you're so obsessed that it's all you can think about means you need to step back. If you're finding that the only joy you get comes from seeing a number on a scale, it's not going to be quite so easy to just jump back into normal life once you're at the weight you think will make you happy. You need to address (right now! at the weight you currently are!) why other aspects of your life aren't fulfilling to you, and work on that at least as much as your diet.

Your Eating Is Mostly Emotional
Late-night shame binging, stuffing your face with apps at a family event, refilling your plate for the third time when your stomach still hurts from the second. Am I just describing my holiday break, or do I have a larger point? Both! What all those eating incidents have in common, beyond the fact that I am a monster, is that they had nothing to do with how hungry I was, or what I really wanted to be in my body. At many points in my life (#growingupfat), I've used food as a distraction—a quick hit of endorphins in the form of chocolate or cheese that took me away from the present moment. Whether that moment was stressful, sad, or just plain boring, eating made it better.
But as it turns out, eating every time you're not 100% okay with your surroundings does not actually feel better in the long run. And every time my emotional eating ticks up, and my weight inevitably changes along with it, I address it in the worst way. I am So Fat! I tell myself. Better go on an all-out diet, starting with green juice at 8 AM. But here's the thing! I was not gaining weight because my breakfasts were bad for me. In fact, I ate pretty healthily, within the context of normal meals. And making those normal meals more restrictive (under the I Am Fat & Therefore Must Diet regime) just exacerbated my emotional eating. Hungry people are weak people, and saying no to a midnight pint of ice cream only got harder when I'd subsisted on lettuce all day.
So, if you're like me and a lot of your "bad eating" tends to happen in these types of settings—where the food has nothing to do with its role as food, and everything to do with your mood—no diet in the world, sadly, will fix it. You have to figure out a peace for yourself in moments that typically have you reaching for food. Because even though there may be unwanted weight involved, it's not the weight that's the problem—it's the way you're using food to control your emotions. (And if you solve that problem, any remaining weight loss goals you have will be so much easier.)
See this? This is a picture of me on Sunday night not a well-adjusted human.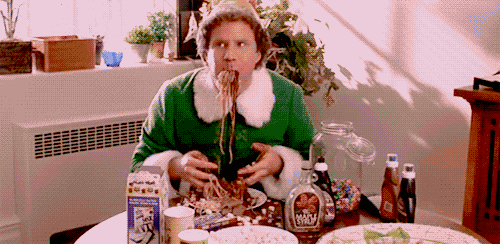 As you can probably tell, I'm guilty of all three of these behaviors. It sucks to feel obsessed with your weight, and it's easy to feel like the whole world encourages that kind of thinking. But the lie that they're selling is that weight loss is everything because weight loss will make you happy. Don't forget that happiness—YOUR happiness—is what you're actually after, and don't be fooled into thinking that weight loss will always, definitely get you there. There are other ways to be happy, and honestly, most of them make me way f*cking happier than going on a diet.
Images: Giphy (3); Unsplash / i yunmai