I will literally never stop shitting on other people's weddings. You can say I'm a terrible person, judgmental, etc., but all I'm doing is broadcasting to the internet all the things you say in your group chat. Sucks for you. I'm like, the voice of a generation.
If you're going to spend tens of thousands of dollars on a party, we're allowed to pick it apart. This year, I hope to see less of certain trends, more of others. These are the top 10 trends I'm predicting for weddings in 2018. Hang on to your cynicism.
1. Creative Desserts
I said it before, and I'll say it again: no one wants your stupid naked/buttercream/10 tier wedding cake anymore. That's over—it's cancelled. What people DO want are creative desserts like giant tables of homemade cookies (cough, I'm so ahead of my time, cough), doughnut walls (even though they're fucking stupid), fondue fountains that are tacky but whatever, and Viennese tables which I appreciate for the classy factor.

2. Woodsy Is Apparently In
Good news if you bill yourself as boho chic rustic—the woodsy homeless wedding look is in for 2018. I guess that means that barefoot brides, flower crowns, and raw wood tables (perf for giving shitty kids splinters) will dominate my Instagram this year. I don't hate it, but I'm sure by November I'll be ready to gouge my eyes out with that raw pine centerpiece you so lovingly and sustainably sourced.
3. Purple Shit
RIP Prince. In honor of Pantone's color of the year, get ready to see purple fucking everywhere. In bouquets, on the bridesmaids, in those stupid little flowers all the groomsmen wear—EVERYWHERE. If it's the right shade (like a dusty lavender or lush violet) it'll be fine. What I don't want to see is someone forcing their bridesmaids into dark plum dresses that makes them look like that big purple thing from the McDonald's crew that still gives used to give me nightmares.

4. Greens
Greens on table runners, greens down the aisle, evergreen branches to go with your winter wedding—get ready for a departure from flowers.
5. Balloons
FUCK. I HATE balloons. They belong at children's birthday parties and sadly floating outside used car dealerships ONLY. However, with the departure from floral arrangements, don't be surprised to see these rubber horror shows "tastefully" worked into centerpieces, as aisle décor, and (possibly most horrifyingly) in bouquets.

6. Garden Parties
Good news for the bougiest of us: garden parties are for weddings in 2018. Hosting nuptials in large botanical gardens in the afternoon with tea and finger sandwiches PLUS a true return to formality is all wrapped up in this shit. Can't say I'm mad.
7. Fucking Stupid Invitations
I've already voiced my hatred for overly involved invitations. It's a piece of paper that's going to get thrown away. But 2018 wedding trend watchers (how do you become a trend watcher?) predict invitations being fucking crazy this year. Wood, velvet, origami—let your imagination soar. So get ready to throw away something super interesting and expensive.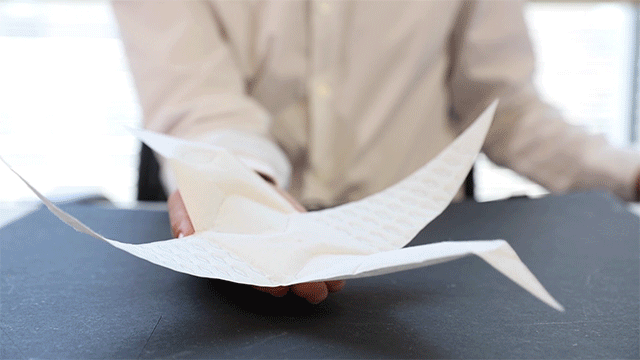 8. The Return Of Silver
I think we can all agree that copper, rose gold, and regular gold are officially now overdone and tacky. As with the return to some formality with weddings, we're also swinging back to plain, pretty, CLASSIC silver utensils and serving vessels. Thank god.
9. Hanging Flowers
How Gardens of Babylon of you. So, along with lots of greenery, instead of flowers and greens on tables, a lot of crunchy bitches will be looking to hang garlands and flowers from every goddamn rafter. This will def up the woodsy feel—especially when a poison flower falls in my food.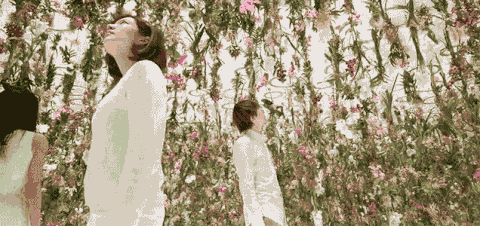 10. Velvet
This 80s fabric is having a moment, as evidenced by my boss's velvet leggings. We don't totally hate it, especially for winter and fall weddings. Just use it sparingly. An acceptable way to use velvet would be as bows on bouquets, or on two-piece dresses as a top for bridesmaids (SO CHIC) with full satin skirts or some shit. Not acceptable: velvet wedding dresses, velvet jackets on dudes, and velvet flowers. Gag. No.