It's 2019, and as per usual, women are here to slay. Because the world is the way that it is at the moment (a legit nightmare), activism is playing a key role in politics. Sh*t has got to change, and women are out here kicking ass and taking names to make sure that it does. So many women are doing such amazing work, so we made a list of some our favorite badasses who are working to make the world a more tolerable place. Check them out, follow them, and be inspired them. And then play "Run the World" by Beyoncé on repeat for the rest of eternity.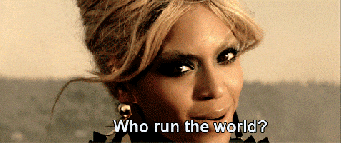 This queen is a intersex Belgian model who is proudly making the world aware of her experience. She was told from a young age to keep the fact that she is intersex a secret, as if it was something to be ashamed of. Intersex is the seldom talked about letter in the LGBTQIA acronym, and Hanne is bringing more visibility to the identity in her activism. She partnered with InterACT to advocate for intersex human rights, and is vocal about how forcing intersex children to undergo surgery is a human rights violation. She's bringing a voice to a community that hasn't had many of those, and she's doing it all while being a literal model. We stan.
Brittany is an educator, organizer, writer, and speaker who focuses on the intersection of justice and culture. As a Black woman, she is a leader of social justice and advocacy for women of color. Also, Barack Obama stated that she is a "voice that is going to be making a difference for years to come," which is v casual. Brittany is the Vice President at Teach For America's National Community Alliances, where she leads partnerships with communities of color. She's also the co-founder of Campaign Zero, a policy platform that aims to end police brutality. As a prominent Ferguson protester, Brittany was appointed as a member of the Ferguson Commission and President Obama's Task Force on 21st Century Policing. She also has a v popular Tedx Talk called "It's about time to value Women of Color in Leadership." Damn, is there anything she doesn't do?
Yara is an Iranian-American actress, model, and activist. You may recognize her from her role as Zoey on the hit TV show Black-ish. She is the founder of Eighteen x 18, a platform that encouraged 18-year-olds to vote for the first time in the midterm elections. So at just 18, she was actually making America great again. And it doesn't end there. She has another organization called Yara's Club, which is partnered with Young Women's Leadership Network (YWLN) of New York, and provides online mentorships with the goal of ending poverty through education. At 18, I was literally just sitting in my room and applying too much lip gloss while watching The O.C. and yelling at my mom.
Malala is a Pakistani activist who has received international attention for her fight to make sure women in Pakistan receive an education, especially in her native town of native Swat Valley in Khyber Pakhtunkhwa, where the Taliban had banned women from going to school. She was also the youngest winner of the Nobel Prize when she received it in 2014, which is incred. Because of her feminist activism, a member of the Taliban attempted to assassinate her. She survived, and made it her life mission to continue her work. She founded the Malala Fund, a nonprofit organization that works to ensure free and safe education for girls. Amazing.
Marley is a teen activist who set out to change the world at the age of 11. Sick of reading books that only feature white people, Marely launched a campaign called #1000BlackGirlBooks. Her goal was to collect and donate 1,000 books that feature black girls as the main character, and she has been highly successful. She has collected over 9,000 books and now has a book deal of her own. She is now 12 years old. With a book deal. That is…so impressive.
View this post on Instagram
Tarana is a black civil rights activist who hails from the Bronx, and you probably know her as the founder of the #MeToo Movement. She coined the phrase back in 2006, and used it to bring awareness to sexual abuse in our society. As we know, the term made its way back into society in 2017 and has changed the world for the better. Because of Tarana Burke, survivors of sexual assault and harassment have found a voice and been heard.
View this post on Instagram
Akilah is a comedian and activist who uses her platform to speak out against today's politics. Her Youtube channel "Akilah Obviously" has 159k followers, and includes sketch videos that use comedy to make social commentary. Her Twitter is fire, and you should absolutely follow her. She's been blocked by Tomi Lahren, which is iconic. Akilah has a distinct voice and is using her comedy to educate the world on how dumb we are. We love her for it.
https://twitter.com/AkilahObviously/status/1085678324494594048[/embed]
More teen activists making the rest of us look bad! Delaney and Emma are both survivors of the Parkland shooting who have channeled their grief and turned it into action. After living through a traumatic tragedy, both of these young women decided to take a stand against gun violence in America by organizing "March For Our Lives," one of the largest youth protests in the US since the Vietnam War. At just 17, they became the faces for gun reform in America, and both of them have made it clear that they plan to continue towards change through activism.
Okay this list is really starting to make me feel bad about myself. At just 8 years old, Mari wrote a letter to then President Obama asking him to meet with her about the crisis in Flint, Michigan. Obama responded by making a trip to Flint to meet her and help the people of her community. God, I miss Obama. Now 10 years old, Mari is still working to help out the people of Flint. She raised over $10,000 for students to get backpacks for school, and partnered with an organization called "Pack Your Back" to help underprivileged kids receive all of the school supplied they need. She's also the youngest Women's March Youth Ambassador, National Youth Ambassador for the Climate March, and Youth Ambassador for Equality for Her. And I'm literally crying while writing this because she is so inspiring and adorable.

Julissa is a contributor for Crooked Media and one of the hosts of Crooked Conversations, a podcast on that covers news stories that aren't making headlines but are heavily impacting the world. Julissa is a prominent voice and leader for immigrants in the US. A Mexican immigrant herself, she moved to America at the age of 11 and was undocumented for 15 years, even as she climbed her way to the top on Wall Street while working at Goldman Sachs. She uses her inspirational story to help other immigrants achieve their dreams. She is the co-creator and chairwoman of Ascend Educational Fund (AEF), a college scholarship and mentorship program for immigrant students in New York City. Oh, and she's also a best-selling author for her book MY (UNDERGROUND) AMERICAN DREAM.
Dana is the co-founder of The Ripple, a non-profit that aims to create a collective of women to empower other women to make waves in their community. Love that, love women. Dana is an intersectional feminist whose personal passion is body positivity. She uses her personal Instagram account (@dothehotpants) to promote body positivity and runs workshops on how to raise body positive kids. Her feminism is intersectional, and so is her work.
Vilissa is a fighter for disability rights, and is the founder of Ramp Your Voice, an organization that promotes empowerment, education, inclusion, and self-advocacy for disabled people. She is an advocate for more intersectionality in the movement for rights for the disabled, and is known to bring attention to how women and people of color are often left out of the conversation. She created the #DisabilityTooWhite hashtag and uses it on her social media pages to bring awareness to the cause. And on top of all that, she's a social worker. Incredible.
For me (not speaking for anyone else with this), the only people I let get a pass at staring are children & old people. If you're between the ages of 13-80 – do better. Adjust your gaze – yes, I'm that fine to look at. Glad you noticed.

— Vilissa Thompson (@VilissaThompson) January 18, 2019

Brb, becoming an activist ASAP.