Summer weddings are a dime a dozen; good summer weddings are rarer than me not getting a hangover after drinking anything other than vodka soda. It's a cross I have to bear. If you're planning a wedding in June, July, or August, you need to take into account the hot fucking weather, that no one likes being out in the hot fucking weather longer than necessary, and that comfort takes precedence over a lot of other shit. Putting people in hot, sweaty suits or long, sweat-inducing dresses is as cruel and unusual as not having shade for Auntie May, who is prone to overheating. Don't be a dope and don't make these summer wedding mistakes during your big, special, summer day.
1. Long, Heavy Dresses
Summer is time for tea-length or short dresses and breezy fabrics. If you value your life and don't want your bridesmaids to shank you in your sleep, try not to dress them in long sleeved, long skirted dresses (or fucking velvet) when it's July. If you must go long skirt, opt for chiffon or another light fabric. For yourself, think strapless or spaghetti strap and NOT multi-skirted organza with sleeves. Idiot.
2. A Lack Of AC
Please, for the love of Lord Jesus, have AC at some point during your day. It's fucking hot in July and August, and no one wants to be stuck outside for six hours in the humidity. If you're having your reception and/or cocktail hour in some sort of tent or old barn, have a lot of fans, misting stations, and possibly even an indoor area. Do you want Great Gramma Elle to die of heat exhaustion and totally upstage your big day?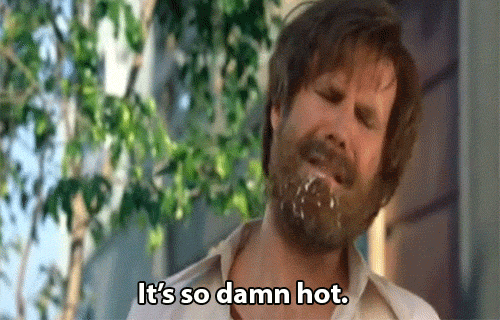 3. Shitty Weather
Summer is a fickle bitch, and afternoon storms are the norm for most spots. Plan on one happening even if the weather people say it'll be clear all day. They're liars. Have umbrellas on hand and definitely have a Plan B for your outdoor reception/nuptials/cocktail hour in the form of tents or a v nice barn in case of a downpour, tornado, or derecho. They're real.
4. Not Using Sweat-Proof Makeup
Fun fact: if it's 100 degrees outside and you get your wedding done at 6am for a 2pm wedding, your makeup is going to be literally melting off your face by the time you're taking pictures. If you need your hair and makeup done early, make sure you have oil sheets to blot, a ton of hairspray and extra bobby pins, and back up lipstick and mascara for yourself and your maids.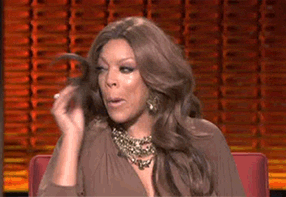 5. Lack Of Shade
HALP. This kind of goes without saying, but make sure your guests have shade in the form of umbrellas, tents, or an indoor area. Not only will everyone turn bright pink from sunburn (which won't be cute in photos), but having a spot to run to and take a break from the beating heat and noise is like, a nice thing to offer.
6. Overly-Iced Cakes
Summer is the perf time for your naked cake with minimal icing, lots of fruit, flowers, and not much else. Why? If you try to get the multi-tiered fondant and buttercream tower of cake, it's going to melt in any outdoor heat. Just picture it: those little wedding figurines slowly sliding down the side of the cake, grandma screaming, and then the cake collapsing. Sounds magical.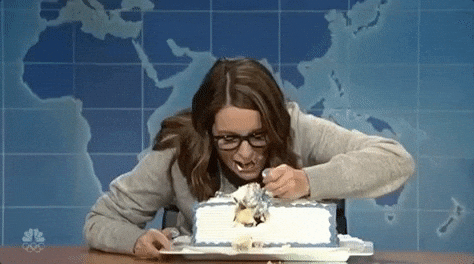 7. Not Enough Water
I love getting drunk on margaritas poolside as much as the next betch. However, when you subtract the pool and add long dresses and very light hors d'oeuvres, it's a recipe for someone barfing on your wedding dress. Make sure you have tons of water stations—including infused waters to make people feel fancy—and a few heavier hors d'oeuvres during your cocktail hour. Open bars and hours of the beating hot summer sun do not mix.
8. Formal Expectations
I get that having a black tie affair is like, très chic. But doing one in the heat of August is a little much. If you're getting married in the summer months, understand that there's an expectation of a more casual wedding. Ain't nobody got time for dressing like they're going to a gala when it's 98 degrees outside. No one enjoys being sweaty.

9. Making It Bug City
An outdoor summer wedding complete with string lights and candles and fake lanterns sounds SO cute, right? WRONG. Those fake lights attract bugs, and your guests will become an actual buffet for the mosquitos at your outdoor reception. Opt for citronella candles and torches if you want a moody outdoor feel, but ditch the string lights.
10. Picking Overly Basic Colors
Yah, summer is a great time for neutrals, blush tones, and the color palette from Anthropologie, but don't go overboard. Make sure to pick one or two eye-popping colors, either in your flowers (maybe a super dark blue iris or bright pink peonies), your bridesmaids' dresses, or centerpieces.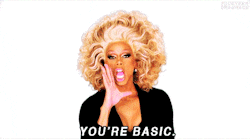 Images: Shutterstock; Giphy (5)