It's the morning; somehow you've dragged yourself out of bed despite the bottle(s) of red wine you chugged last night while crying and watching rom coms. You fire up the Nespresso, hop in the shower, and open up your closet only to realize you have no fucking clue what to wear because this weather is more random and questionable than your dating history. Low of 34 in the morning with a high of 76 and a chance of snow? Is this a fucking joke? Sadly, it's not a joke—it's that stupid transitional time between winter and spring, when the weather and the seasons can't make up their damn minds. Don't freak out yet—we're here to help. Stock your closet with these items and you can get through the day without a) dying of frostbite or b) sweating through all your clothes.
1. Trench Coats
From left: J.O.A. trench coat; French Connection drape front trench coat
Trench coats are amazing because they instantly make any ensemble incredibly chic, are lightweight enough for warmer days, protect you from the rain, and are ideal for hiding from ex-boyfriends/paparazzi when paired with huge sunglasses.
2. Chambray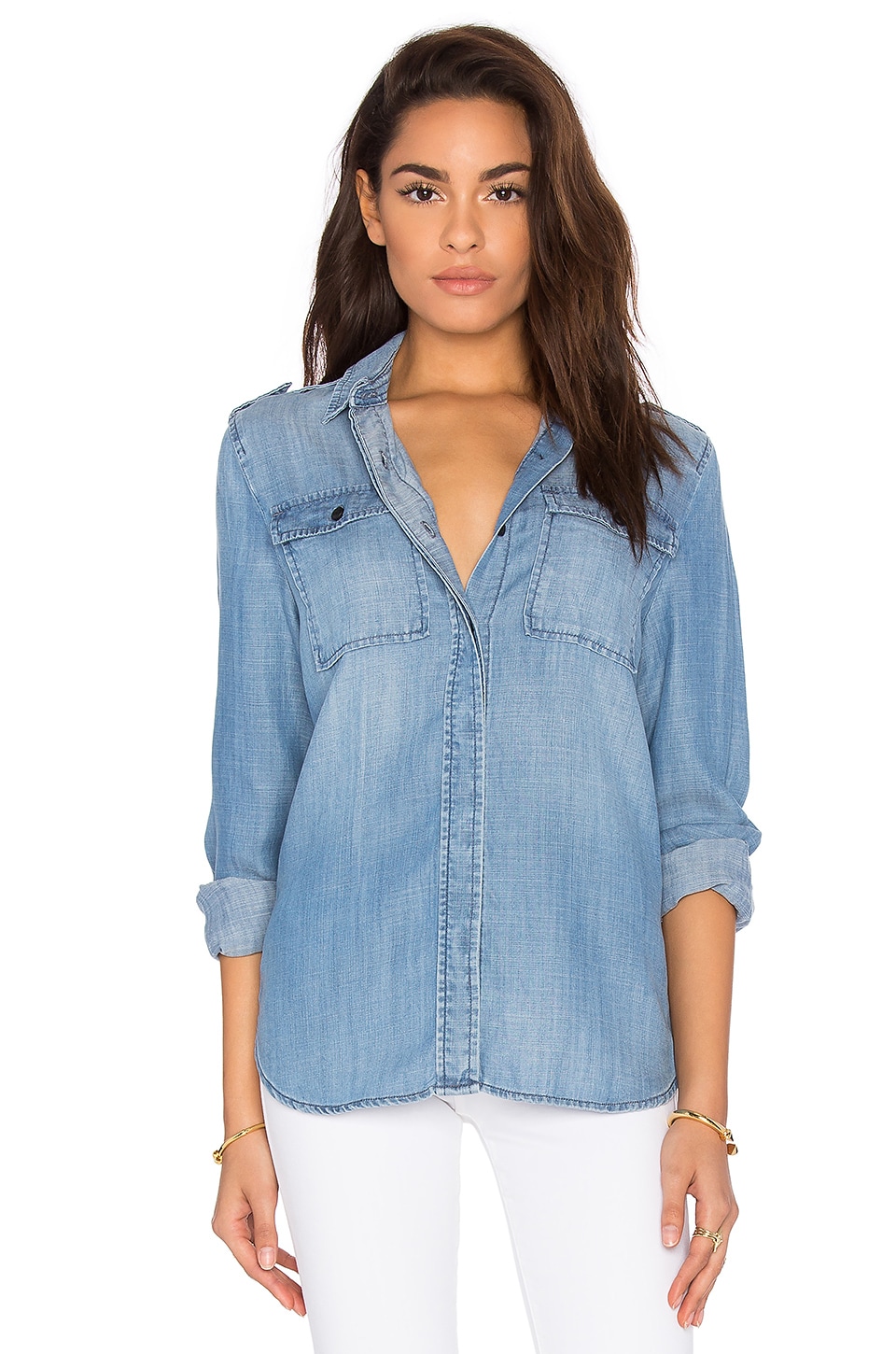 Frame Denim Le Military button up
The denim trend is a huge trend thing now. Chambray is a great transitional material because it's super lightweight and keeps you covered without overheating. Look chick by wearing it underneath a sweater on cool days or roll up your sleeves on a warmer day.
3. Ripped Jeans
rag & bone distressed skinny crop jeans
We're obsessed with ripped jeans because they automatically make any outfit less boring and are perfect for those in-between days when it's too cold for shorts but warm enough to show a little more skin.
4. Off-the-Shoulder Tops
From left: Blaque Label off shoulder top; Emerson Thorpe Faye off shoulder blouse
Off-the-shoulder tops are an elegant alternative to sleeveless tops that allow you to expose your shoulders without committing to a full-on tank top. Pair with denim shorts, jeans, or a breezy maxi skirt.
5. Long-Sleeve Dresses
From left: Ramy Brook Lauren dress; David Lerner lace up long sleeve dress; Lovers + Friends Haiden dress
Long-sleeve dresses with lace-up and off-the-shoulder details are a trendy way to look great in any forecast. Pair with over-the-knee boots on a chillier day as a chic alternative to tights, or with a cute pair of flats on a warmer day.
6. Short-Sleeve Sweaters
From left: Kathryn McCarron Tilda sleeveless turtleneck sweater; 360 Sweater Logan sleeveless cashmere sweater
Sweater tops are so in right now, especially with a high neckline. They have the elegance of a sweater without the chance of overheating, and can be worn with a leather jacket or blazer if the temperature drops.