Eating at work is pretty much always sad—especially if you're parked at your desk, attempting to do actual work in the meantime. Are you nomming on a slightly warm yogurt? Are you choking down a smoothie? Stop it. Put some thought into what you put in your mouth first thing in the morning.
We've rounded up four amazing and not-terribly-sad office breakfasts that yes, you can eat at your desk while rewatching last night's The Bachelor doing actual work.
Overnight Oats
We've sung their praises before, and the sheer lack of effort that goes into this jar of oat-tastic goodness PLUS the ability to add whatever we want make overnight oats a top contender for a stellar office breakfast. The night before, combine ½ cup whole milk, 1/3 cup rolled oats, ½ a banana or ½ cup berries, ¼ cup chopped walnuts, and a dash of vanilla. Pour into a jar with a screw lid, let sit in the fridge overnight, and take to work in the morning. Feel free to mix it up by adding cocoa, peanut butter, and even chocolate chips.
Quiche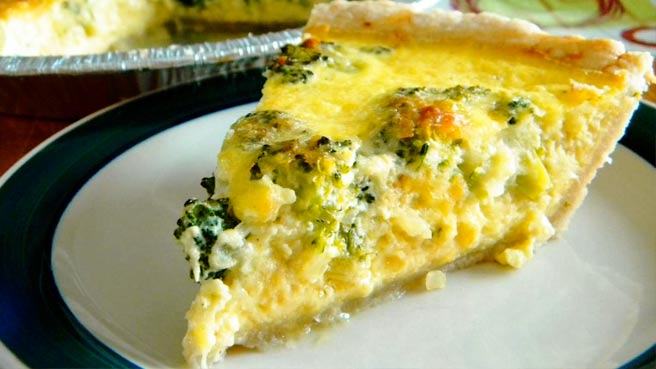 There's nothing like a delicious slice of quiche to start your day, and obviously you can make it before. It also doesn't have to be terribly unhealthy. Check out this recipe for a spinach, goat cheese, and sundried tomato quiche in a premade (thank you, God) crust. Bake, chill, then grab a slice on the way to work. Shit, you can even top with a simple arugula salad dressed with lemon juice for a green power boost to start your day.
Make Your Own Granola
We've given you recipes for granola before, so we suggest either taking that shit and sprinkling it all over some Icelandic skyr or, like, be basic and put it on Greek yogurt. You can even warm it with milk and have some crunchy oatmeal. Either way, the nuts and fruit will keep you feeling full until lunch.
Sweet and Salty Scones
Scones make you instantly feel fancy and British, and bringing one to work with a tiny container of fresh butter and some sort of artisanal jam will begin a beautiful breakfast when paired with your coffee. Check out this recipe from betchy chef, Giada, for a salami and apricot scone. Sounds weird, is fucking amazing.