Your favorite little person rapper, Weezy aka Tha Carter aka Lil Wayne aka Tunechi aka Lil Tunechi aka Birdman Jr aka I Have To Stop Now Or I'll Be Listing Aliases For 3 Hours, might be retiring from music. Following some shooting prank in his home (what a fuckin bummer), the hip-hop artist decided that he was over it and too mentally exhausted to carry on.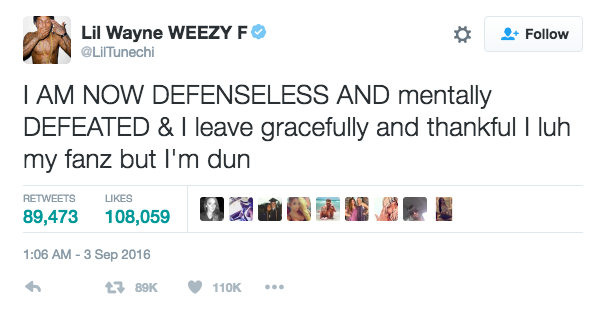 Luh you!!!
But like, has Wayne even really been in the game as of late? For quite some time now he's just been popping up on random songs and has a track for Suicide Squad (career low), but let's not pretend like this is 2008 when "Lollipop" was nothing if not an endless loop of alien-esque noises that played on every single radio in America.
Also, Milly Elliot replied. Time warp, am I right?
Anyhow, Weezy F. Baby, don't retire. Or do. You honestly haven't affected my life in like, at least 5 years.