It's that time of year when the weather is a bipolar betch and can't decide if it's actually sweater weather—aka it kind of, sort of, gives an excuse to buy a new fall wardrobe.  But no makeup sweat, it's time to help a bad betch out when it comes to looking the hottest with our items that just so happen to be on sale, so you'll basically be making money. After attending NYFW, we narrowed down the trends that are totally okay to wear before you head out to get wasty pants, but at least your pants are designer.
No one likes a bomber jacket that everyone already owns. This hot af leather bomber jacket is conveniently on sale for $420. It's literally lit. DKNY leather snap-front bomber jacket, originally $1,200.
Fuck the whole anti-white after Labor Day. This bomber is great because it's fucking cropped for this bipolar weather. Sale: $298. DKNY Pure cropped bomber jacket, originally $498.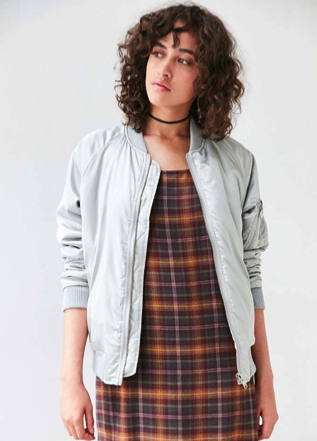 Every Betch knows that satin apparel is totes in, and so are bomber jackets. On sale for $79.99. UNIF for UO satin bomber jacket, originally $149.
You need to get off the basic choker trend and buy a denim choker. This isn't on sale but it's 13 fucking dollars—we think you can handle it. Sorella distressed jean choker blue, $13.
The whole night slip trend is in, but this metallic cami makes the trend classy af. Sale: $124.60. BCBGMAXAZRIA Mady metallic lace camisole, originally $178.
Now that mercury's no longer in retrograde, you can take a risk and strut a pair of funky denim like these. Sale price: $39.99. BDG Twig cutout high-rise skinny jean, originally $79.
Booties are always major key. Sale: $133. Dolce Vita Niki open toe zip up booties, originally $190.
K, this is what you came for—off-the-shoulder shit, so hot right now. Sale: $82. Nicholas long-sleeve crop top, originally $235.