It's no secret that Donald Trump is easily the most laughable presidential candidate. Between his toupee hair, orange glow, and ability to inspire toothless jackasses everywhere, we're really gonna be in for a treat if he becomes President.
SPEAKING of treats, we thought we'd make a cake inspired by this walking nightmare. But this isn't a regular cake, it's a cool cake.
Ingredients
1 cup milk
1 1/2 teaspoons vanilla extract—try to find the most expensive and direct-from-Madagascar vanilla you can
1 cup butter, softened
2 cups white sugar—only white, not brown, because brown just doesn't bring its best to this recipe and is stealing all the white sugar's jobs
3 cups cake flour—again, emphasis on keeping out any lumps or non-uniformity here
1 tablespoon baking powder
5 egg whites—plz get rid of the yolks, remember we want to keep this country cake as white as possible
Preheat the oven to 350F and grease three 8-inch round cake pans; line the bottoms with parchment then grease and flour the paper. We love overkill.
In a bowl, stir together the milk and vanilla. In a separate bowl, beat the butter at medium speed with an electric stand mixer until creamy; then gradually add that nice, white sugar, beating until light and fluffy. Sift together the flour and baking powder; add to the butter mixture alternately with the milk/vanilla mixture, beginning and ending with the flour mixture. Remember, you're essentially just repeating this process until it makes sense to you and those around you. Beat at low speed until blended after each addition.
In another bowl, beat the egg whites at medium speed until stiff peaks form, then gently fold into the batter. Pour the batter evenly into the three prepared pans.
Bake for 20 minutes or until a burning wooden cross toothpick inserted in the heart center comes out clean. Cool in pans on wire racks for 10 minutes. Remove from pans to wire racks and cool completely for about 40 mins.
For the frosting
1 cup firmly packed dark brown sugar (if anybody calls you out later on for using dark brown sugar: deny, deny, deny)
1 cup butter
1/3 cup heavy cream
4 cups powdered sugar, sifted
1 teaspoon vanilla extract
1/2 teaspoon sea salt—you can get this by harvesting and drying immigrant tears
Bring the brown sugar and butter to a rolling boil in a 3 ½ quart saucepan over medium heat, whisking constantly with your baby hands. Stir in the cream and return to a boil, then remove from heat. Pour into the bowl of an electric stand mixer and gradually beat in the powdered sugar and vanilla at medium speed for about 8 minutes or until thick.
Spread your salted caramel frosting between layers and on top and on the sides of your cake until it has a nice soft, yet fluorescent orange-ish glow. Sprinkle with sea salt. Serve on a platter of checks from Daddy and to the sound of screaming bald eagles.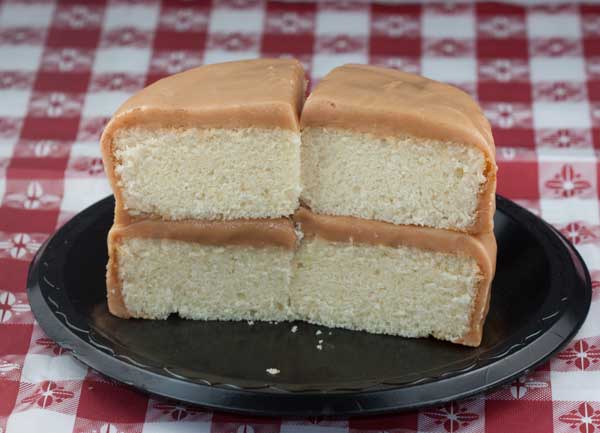 Make your cake great again.